Activision has been strangely quiet about the next Call of Duty title. It's only recently that the publisher even confirmed that it would be called Vanguard through a series of various teasers. However, a leak via the PlayStation Store suggests that we can expect an official reveal of Call of Duty: Vanguard later this week.
The PlayStation Store entry for Vanguard was accidently updated too early. Although technically just a placeholder, it featured a thumbnail image that gave away some crucial information. The thumbnail reads: 'World reveal of Call of Duty: Vanguard – August 19, 10:30 AM PT in Call of Duty: Warzone'.
Vanguard is coming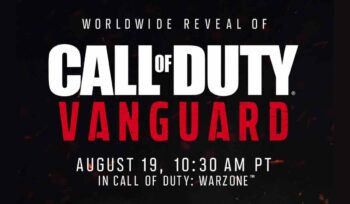 Needless to say, the thumbnail's message is hardly cryptic. It would appear that the official reveal for Vanguard will take place this Thursday on August 19. The reveal will happen in the Call of Duty: Warzone battle royale game in some form.
Any further details as to what to expect are currently unknown. Based on the past, the most likely outcome is that Warzone developer Raven Software either places a teaser in Warzone or potentially add a new playlist. The latter was the method used to announce Black Ops Cold War's integration with Warzone last April.
The playlist titled The Destruction of Verdansk saw the Ukraine based Warzone map bombed and destroyed. Following this event Verdansk was updated to be set in 1984, the same year as Black Ops Cold War. It's possible that the reveal for Vanguard could be similar but this time focused on World War II.
There's a lot of pressure on Activision to get this right. Not only is Warzone struggling right now with players moving on to other games, but the recent allegations don't help either. Some gamers are losing faith in Activision but this reveal at least presents an opportunity to earn some of that faith back.