Sportstream: The Ultimate Guide to Watch Live Sports and Games Online for Free
With the huge surge in demand for live sports events, over-the-top (OTT) sportstream service providers have become the new norm, redefining how fans watch and engage with their favorite teams and players. OTT are online streaming platforms that don't rely on traditional cables, satellites and television to deliver sports content, and most of them let fans watch live sports and games for free.
A 2021 Statista report suggests that, in the U.S. alone, approximately 57 million people watched digital live sports content at least once per month. This number is expected to keep rising with technological advancements.
This guide covers all the information you need to stream sports live, including free and paid services, the legal aspect of sports streaming, and how to make money with sports streaming.
What is Live Sportstreaming?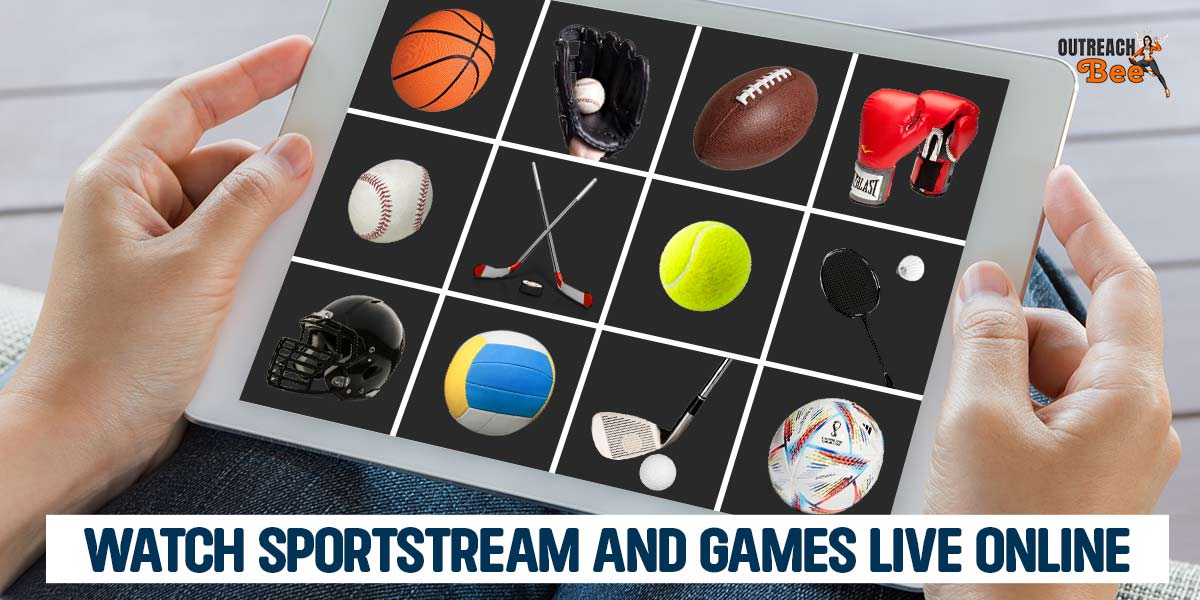 As the name suggests, live sports refer to live coverage of sporting events in real-time. The coverage may be done by an amateur, institution, collegiate, or professional organization, allowing fans to watch exclusive live games over the internet rather than viewing pre-recorded footage. No waiting and no editing — just an immersive experience as if they are watching the game from the stands.
Over the years, sports-streaming landscape events has become a billion-dollar industry, and it's easy to tell why. Live sports create a sense of immediacy and connection between fans and athletes.
Sports You Can Stream for Free Online
Because of technology, sports fans can now access endless games and sports content live for free. The popular ones are;
Basketball: NBA, Lisa ACB, Chinese Basketball Association, National Basketball League, FIBA, League Basket Serie A, etc.
Soccer: English Premier League, La Liga, Serie A, MLS, Ligue 1, Bundesliga, English Football League, Liga Portugal, etc.
National Football League (NFL): Super Bowl, Conference Championships, Thanksgiving Day Games, Divisional Rivalries, Conference Championships, Primetime Showdowns, etc.
Baseball: Major League Baseball (MLB), World Baseball Classic, Olympic Baseball Tournament, European Baseball Championship, Premier12, etc.
Tennis: US Open, Australian Open, Wimbledon, French Open, Italian Open, Miami Open, etc.
Cricket: ICC Mens Cricket World Cup, ICC Women's Trophy, T20 World Cup, Indian, Premier League, Ashes Series, etc.
Hockey: National Hockey League (NHL), International Ice Hockey Federation(IIHF), Stanley Cup Playoffs, Swedish Hockey League, Canadian Hockey League, etc.
Golf: PGA Championship, FedEx Cup Playoffs, The Masters, U.S Open, etc.
Rugby: Rugby World Cup, Six Nations Championship, The Rugby Championship, European Rugby Championship Cup, British and Irish Lions Tour, etc.
MMA (Mixed Martial Arts): Ultimate Fighting Championship (UFC), Ballater MMA, One Championship, RIZIN Fighting Federation, AMC Fight Nights, etc.
Cycling: Tour de France, Giro d'Italia, Vuelta a España, UCI Road World Championships, etc.
Motor Sport: Formula One World Championship, NASCAR Cup Series, MotoGP World Championship, Moto2 World Championship, Monaco Grand Prix, etc.
NCAA Football: College Football Playoff (CFP) and Bowl Games.
Esports: The International (TI), League of Legends World Championship, Gamers8 Festival, Free Fortnite World Series, Intel Extreme Masters, Fifa eWorld Cup, CS: GO Major Championships, etc.
Where to Sportstream Live Sports and Games for Free
With the advancement of technology, many sports streaming services have emerged to cater to the demand for live sports action. They include;
1.    Free Sportstreaming Websites and Apps
Sports streaming sites and apps ensure you don't miss a game just because of cable subscription limitations. Whether you're at work, home, or commuting you can watch top teams like the Patriots, Ravens, and Vikings on your smartphone, tablet, or desktop computer for free on these platforms; all you need is a good internet connection and you are good to go.
Some of the platforms offering free sports content include Buffstream, sportstream.tv, and livesport24. Most of these streaming sites webcast live sports without a license, and most of them claim to be reliable ways to watch real-time sporting events.
For that reason, relevant authorities are always working with legal streaming companies to track and shut them down to protect the integrity of live streams. Since they keep receiving DMCA notices, they clone their domains elsewhere to continue their operations.
For example, Buffstream may appear with domains like Buffstreams.tv, buffstreams tv, buffstreams.io, buffstreams io, buffstreams.sx, or require you to download the buffstreams app when the main domain gets pulled down.
In the case of Sportstream, you may be required to use alternative sites like sportstream.tv, or sportsstream, while livesport24 may change its domain name to livesports24 after the main site is taken down.
What to Do If a Sports Streaming Site is Down
Free streaming sites usually encounter technical issues for many reasons. Here are the issues you may experience and how to troubleshoot them:
Connection Issues: Check your internet connection or clear
Buffering issues: Lower the video quality of the game you are streaming or pause it for a while to let the buffer fill up or restart your device.
App issues: Try clearing your internet cookies and browser cache or access the website using an online proxy You can also uninstall and reinstall the app.
Sports Streaming Using a VPN
Although most streaming websites advertise themselves as safe, they are not entirely trustworthy since most of them webcast live sports without proper authorization from copyright holders. These platforms could redirect you to malicious websites, so ensure you use a VPN to access them. Here's why:
A VPN lets you access geo-restricted content. Usually, licensing agreements lead to sports streaming companies imposing regional restrictions on their content, which means it ceases being available to fans in specific parts of the world. In that case, VPNs can break these geographical barriers by connecting to servers in restricted regions.
A VPN can also protect viewers from throttling in Internal Server Providers (ISPs), usually caused by data-heavy activities like streaming live sports events. Throttling leads to buffering and poor-quality videos, ruining the whole viewing experience. In that case, viewers use VPNs to encrypt their traffic and hide their I.P. addresses from ISPs to prevent them from limiting their internet speeds.
Illegal live-streaming websites and apps usually contain potential threats. However, using a VPN ensures you are protected from possible malware and third-party trackers.
2.    Social Media Channels
Social media has had a profound influence on the sports industry. Several social media platforms allow live sports to be deployed over them, enhancing fans' engagements and scaling sports businesses.
A lot of social media users use their accounts to air exclusive sports content. The popular social media platforms that you can catch live sports coverage on include;
Facebook Live
Instagram Live
Twitter
For instance, Twitter Introduces Apple TV, Amazon Fire TV, and Xbox One Apps for Live Streaming Video. Besides, YouTube T.V. features more than 100 cable, broadcast, and regional sports networks.
Subscription-based Channels to Sportstream Games Live
Sports fans can also opt for platforms that require paid subscriptions for seamless viewership experience. Ensure you check channel coverage, geographical restrictions, streaming quality, subscription cost, and device compatibility before choosing any of the following subscription-based services:
1.    Over-the-Top (OTT) Subscription Sports Streaming Service
Sports fans can watch live sports without cable, all thanks to livestreaming websites and apps. The internet is awash with legal and illegal streaming platforms, with most illegal sites providing free sports content and legal sites offering subscription-based content. Here are the popular sites you can watch live sportstream sports legally:
ESPN+
Fubo TV
DAZN
Bleacher Report Live
CBS Sports HQ
NBC Sports App
Yahoo Sports App
Yahoo Sports App
AT&T TV Now
2.    League-Specific Services
As the name suggests, league-specific services are online platforms offered by respective sports leagues and organizations. Most of them provide both live and on-demand services, as well as highlights and analysis.
Typically, you must have a premium subscription to watch live sports events. You can either pay as a stand-alone service or access them as add-ons when you subscribe to other live streaming services.
They include;
3.    Satellite and Cable Providers
Although online streaming is widely used today, satellite and cable still reign supreme in many parts of the world. Cable T.V. usually delivers signal directly into the television using a cable, while Satellite T.V. relies on a dish to transmit signals.
Compared to Satellite T.V., Cable T.V. is less likely to be afflicted by bad weather and is more expensive than Satellite T.V.
When choosing a cable or satellite provider, you should consider the channel coverage and must-have features such as H.D./4k viewing, DVR storage, subscription options, and regional sports coverage.
Examples of cable T.V. networks include ESPN, HBO Max, NBC Sports, and TNT.
Examples of Satellite T.V. are SKY (U.K. and Ireland), Direct T.V. (USA), and DISH (USA).
How Sports Streaming Works: Technological Aspect
The live streams in established companies invest in complex ecosystems of software, hardware, and networking equipment to deliver the footage of live sports events over the internet. This includes cameras, production equipment, video codes, Content Delivery Networks, and video players.
Here is how they work to bring the whole thing together:
High-end streaming platforms use multiple high-quality cameras and production equipment to capture video footage from different angles.
The footage, which is presented in the form of digital data, is compressed and encoded using advanced video codecs to avoid losing the visual quality. Encoding converts raw video data into a digital signal so it can be streamed over the internet.
Streaming platforms rely on Content Delivery Networks (CDNs) to deliver live video feeds in real time. Usually, the digital data is segmented (partitioned and aggregated) before being distributed to viewers via CDNs, which then distribute live video feed in different geographical locations.
CDNs have proxy servers and data centers that temporarily store (cache) the segmented data on their network, handle viewership requests, and distribute video packets to the audience.
Final Thought
Technology is the lifeblood of live sports success. Because of it, sports fans worldwide can watch their favorite teams play in real time from wherever they may be, democratizing the landscape of sports competitions.
Innovative technologies like 5G and 3D simulation are expected to keep shaping the future of the gaming industry, including traditional and virtual sports.
If you are an NFL fan and want to watch sportstream for free, we have more tips on how you can catch the action live from wherever you may be. Be sure to go through the following guides for a smooth NFL experience: