Popular Poki Unblocked Games You Should Try Out Today
Developers are working around the clock to ensure gaming enthusiasts don't run out of amazing online and offline games. So, if you are looking for a way to play Poki Unblocked, you're in the right place.
This guide covers the most popular Poki Unblocked games you should try today. The games can be played alone or with family and friends. No logins or downloads are needed — simply visit the platform to see which instant-play game tickles your fancy.
What is Poki
Poki is billed as an "online playground" dedicated to offering the best online game selection. Its game library consists of over one thousand games, including Poki Uno games and different Poki .io games, which are completely free.
Poki works with gaming developers across the globe to ensure they release new games on the platform to cater to the current demand for online games.
Poki games are playable on iOS and Android smartphones, tablets, and desktop computers. And to ensure you get the best play experience with their offerings, the Poki team reviews all new games before releasing them on their site.
Understanding Poki Unblocked 
Poki Unblocked is a popular gaming website where users can play Poki games on computers that have poki.com blocked. You see, a platform like poki.com features a wide range of online games for both young and old players, and as such, many schools, colleges, and companies feel that these games interfere with productivity within their institutions. So they use internet filters to block game sites like poki.com on their computers to ensure people remain focused.
However, Poki Games Unblocked is a service that allows gaming enthusiasts to access blocked games any time they wish. The service is free and can be accessible from any browser. And the best part? You don't have to download these games; just launch them and start playing directly from your web browser.
How Do You Unblock Poki.com Games?
Sometimes we wish we could recreate a physical fun activity like the Pocky game into an online franchise. But whenever such games appear online, you may fail to access them, particularly due to restrictions. Luckily, there are several ways you can bypass restrictions to access poki.com games from any where. They include:
1.    Use a VPN to Poki Unblocked
VPNs (Virtual Private Networks) can help you bypass restricted game sites. It encrypts your internet connection and routes it through a server in a different geographical location. That means you can hide your IP address and online activities using a reliable VPN to play Poki unblocked. It also safeguards your gaming experience.
2.    Use a Proxy Site
Proxy sites serve as an intermediary between your device (smartphone or computer) and the internet. Whenever you access Poki games using them, they'll send your request to the Poki website and then relay the site's response to your computer or smartphone. This way, you can access poki.com games without being detected.
3.    Use External Browser
You can also use an external browser installed on a portable USB drive to access Poki games. Ideally, an external browser is independent of the computer's operating system and network settings. It works by redirecting traffic through a different server so you can bypass internet restrictions.
4.    Use Tor Browser
Tor Browser is an open-source browser designed to provide anonymity and protect your privacy online. It relies on a series of nodes to let you route your internet traffic through multiple Tor networks, making it extremely difficult for anyone to track your online activities.
Categories of Poki Unblocked Games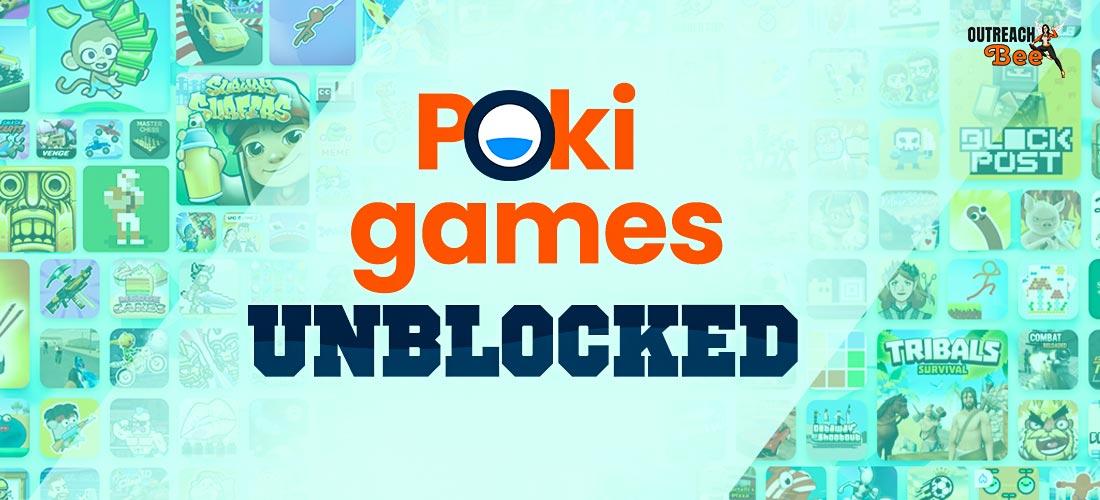 Poki features over one thousand online games in its portfolio, including single-player and multiplayer games like Uno.
Here are the top categories to expect from Poki Unblocked:
Sports Games: Penalty Shooter 2, Football Masters, Tennis Masters, Basketball Legends 2020, etc.
Action Games: The Sniper Code, Blockpost, Airport Clash 3D, Sky Mad, etc.
Board Games: Master Chess, Master Checkers, Classic Backgammon, Ludo Hero, etc.
Racing Games: Grand Prix Hero, Super Tunnel Rush, Super Star Car, Motorola X3M, etc.
Skill Games: Tetra Blocks, Supernova, Tunnel Rush, etc.
Adventure Games: Detective Loupe Puzzle, Gold Digger FRVR, etc.
Poki .io Games: Sushi Party, Duckling.io, Ninja.io, Trials.io, etc.
Arcade Games: Pool Club, Breakoid, Blumgi Bloom, etc.
Card Games: Solitaire, Spades, Rummy, and other free Uno Poki games.
Most Popular Games on Poki Unblocked 
There are tons of free games offered at Poki Unblocked. Since reviewing them all will take ages, we have compiled a list of the best poki unblocked games you should try today.
1.    Monkey Mart
Become in charge of a supermarket with this idle game created by TinyDobbins. Simply launch the game and wait for your character to do all the tasks. You don't have to press any buttons as long as the character stands in the right place.
You can plant, harvest, and sell various food items in this game. Customers will come to purchase these items from you. Just stand beside the cash register to collect payments.
Ensure you upgrade your mart to start earning more money. Simply click the arrow at the top of your playing field to access these upgrades.
As the game progresses (after unlocking new aisles and adding more products), you'll need to hire assistants and other employees to help manage the aisles.
Some challenges you'll need to solve in Monkey Mart include employees falling asleep and naughty customers. Balancing all these tasks will keep you hooked for hours.
2.    Subway Surfers
Subway Surfers is among the most popular games today, with an estimate of 4 billion lifetime downloads, according to Sybo Games (2023). You've probably played the mobile version of Subway Surfers on your smartphone before. Now, Poki has a web version on their official website where you can play instantly without downloading it.
The classic endless runner game will take you through various terrains where you will face different obstacles. You'll start off as Jake, and you must run away from a grumpy inspector and his dog.
Use your right/left and up/down arrow keys to move accordingly. Use the spacebar to activate the hoverboard.
Also, don't forget to collect coins. You'll need them to unlock new characters as well as special gears and power-ups to help you go further.
You'll enjoy this game if you like being challenged. Getting a new high score in Subway Surfer won't be a walk in the park!
3.    Stickman Hook
Stickman Hook comes with 100+ challenging levels. In this skill game, you play as a swinging stickman, with the option of unlocking other unique characters to add variety.
One of the main challenges is to master the angles and the direction of your swing to succeed. Not every hook you encounter will help you cross the finish line. So, don't get distracted.
4.    Crazy Cars
Crazy Cars takes place in a 3D environment with interesting tracks, dynamic challenges, and exciting obstacles. The objective is to overcome these obstacles, which could fling your car if you are not careful.
In this game, there are 17 cars to choose from. Be sure to collect the stars and other collectibles while exploring unique activities such as climbing Mount Egg, going full throttle on the race track, and performing stunts. You will need the collectibles when unlocking new vehicles.
This game comes with a split-screen functionality to allow you to play against your friends. The game is accessible on desktop computers and mobile devices.
5.    Drive Mad
Drive Mad is a car game created by Martin Magni. In this game, you'll be presented with a truck and with the requirement being to avoid obstacles as you drive through a designated path to reach the end in one piece. Drive Mad is super fun, as you have to avoid these obstacles while maintaining speed and balance.
You'll have unique challenges to overcome to go to the next level. This could be inclines, ramps, slippery surfaces, or oddly shaped tires.
Drive Mad will prove to be fun whether you lose or win. It usually takes screenshots and makes sarcastic comments when you lose. It will also congratulate you whenever you reach the end.
To steer the truck forward, use the Up arrow, Right arrow, D, W, X, or mouse click. To steer it backward, use the Left arrow, Down arrow, A, Z, or Z.
6.    Burger Bounty
Burger Bounty is similar to Monkey Mart, except that you will be running a burger joint in this case. At the beginning of this simulation game, you will start alone and expand your restaurant as the business grows. Expand the eatery with more seating, add team members, and cook different varieties of food to grow it into a profitable eatery.
Some in-game challenges to overcome in Burger Bounty are ensuring customers don't wait too long because they'll leave. Also, as your restaurant grows, you'll start receiving "star customers," who are more demanding and impatient. Be sure to satisfy their needs to earn more money and opportunities.
Use A, D, S, W, or arrow keys when playing Burger Bounty on your desktop computer. For mobile users, you play by dragging and moving the game.
7.    Sushi Party
Sushi Party is a Kawaii-style snake game created by Terminarch Games, a collaboration of two developers based in the Netherlands. Your goal will be to maneuver through an arena with other snakes to make them bump into you. These snakes will die whenever they crash into you.
You'll also be eating sushi and other treats like ice cream and ramen to grow bigger and stop your opponents.
Be sure to block your opponents so they can bump into you and claim all the food they may have eaten. The larger your snake becomes, the juicier the reward.
Besides, there are various achievements to be earned at Sushi Party, including eating 50 poops to 500 sushis. You'll receive a loot box with random hats whenever you reach an achievement. Be sure to try the hats out the moment you unlock enough.
8.    Pop It Master
Pop It Master is inspired by silicone-popping toys. It's a relaxing game, and your objective will be to press popits to unlock colorful fidget toys. There are up to 80 toys, from which you can choose the shape, size, and color you want.
Ensure you pop every bubble because you can unlock the secret mode once you gather all the finger toys.
To play, use your mouse to click or simply tap them to enjoy the realistic feeling and sound as they pop.
Two players can play this game in turns. The player that pops the last bubble loses the round, and the first person to win three rounds becomes the winner.
9.    Water Color Sort
This puzzle game requires you to use logic when sorting liquids based on color. You'll be presented with tubes with different-colored fluids, and the objective is to move them into the right tubes until every tube is filled with a uniform color.
Poki's Water Color Sort allows you to undo your last movement or get a hint whenever you make a mistake. The game is accessible from desktop computers and smartphones.
10.    Stickman Bike
This sports game was created by JetGames. It involves riding a virtual bike through a path with different terrain levels filled with massive platforms and obstacles. The objective is to balance your bike to avoid falling off and breaking into pieces.
Stickman Bike has 20 levels, each with a unique challenge. You can use the control buttons to accelerate and do stunts. The best part? You can compete against your friends.
Poki Unblocked Alternatives and Competitors
Crazygames.com: Explore the world of crazy games unblocked from this site for free. The games are of high quality and are playable from your browser. Discover new games every day from crazygames.com and have fun.
Gameforge.com: This is a credible and trustworthy platform to have fun online. It features games that have been translated into 50+ languages.
Friv.com: The site is a safe place to enjoy free browser games instantly from your smartphone, desktop, or tablet.
Agame.com: It features thousands of free online games for players of all ages. The games are available for free.
Ufteegames.com: The platform lets you access thousands of free online games from anywhere using the device of your choice.
Final Thought on Poki Unblocked Games
Poki.com Unblocked serves as a safe haven for gamers who want to access Poki games from school or office computers. This is where they can access hundreds of free games Poki has to offer.
If you like streaming free sports online, read Sportstream guide to get all the information you need.