Top AARP Free Games Online: 11 Best AARP Games for Your Mental
For a long time, video games have been stereotyped as the digital playing field for kids and the youth. However, it's time to throw out that tag. With AARP free games, video game enthusiasts can exercise their brains while having fun at the same time.
According to a report, brain training games enhance cognitive function in healthy people. Playing mind training games is akin to hitting the gym; the more you play, the more enhanced and sharper your mind becomes.
Our guide delves into the world of AARP free games online, where the fun of playing video games is intertwined with brain-stimulating activities. Let's start with understanding AARP free games.
About AARP Free Games Online
AARP, or The American Association of Retired Persons, is an American interest group incorporated in 1958. The group was formed by Ethel Percy Andrus, who was a retired educator at the time.
This non-profit organization focuses on helping individuals over 50 years to keep their brains stimulated as they go about their daily concerns and difficulties. As part of its programs, the organization's website, under AARP games, provides a series of mind-stimulating games that both members and non-members can play for free.The organization's mission is to empower people to choose how they live as they age.
From puzzles to word to strategy games, AARP ensures it caters to the needs of players of different ages and skill levels. To find the games you want, simply conduct an AARP games online free search on the search bar provided on their official site.
What Sets AARP Games Apart from Competitors
Playing AARP games free on the website is more than just a pastime. It evokes the feeling of excitement and accomplishment when you win in a round.
AARP games provide an interactive virtual community ideal for seniors and players who may feel socially isolated.
The games site is designed to offer the best gaming experience with fast site speed and mobile access, allowing you to play on the site without having to download them.
All the games are mobile-friendly, and players can choose between a standard and large screen size.
Members usually receive personalized game recommendations on this site.
The Benefits Of Playing AARP Games
AARP games are similar to online chain reaction games as they require strategic thinking and stimulate the mind. They are known to enhance memory retention and problem-solving skills. This is particularly essential in improving cognitive abilities and the overall brain health.
Apart from the obvious benefits like mental stimulation and memory enhancement, another benefit of playing AARP games online is that you can collect AARP games online free points, which are redeemable for prizes.
After joining the AARP Rewards program, players receive a welcome bonus of 1000 points, after which they continue earning more by playing AARP free games like crosswords.
You can explore other options on this page, like "Earn More," "Unlock Exclusives," and "Score Savings." These sections have more benefits, including playing members-only games like Atari®'s Breakout® and Pong®, earning 50% more points, and a Free subscription to The AARP Magazine.
Usually, the hot deals offered in this program are discounts, coupons, and offers on health products, consumer electronics, and vacation packages.
How to Join the AARP Loyalty Program
Here are the steps for joining AARP Rewards:
Visit the official AARP website
Navigate the AARP Rewards section
Create an AARP account if you don't have one
Learn to do
Earn points
Celebrate
Categories of Free AARP Games
If you are looking for AARP free games online, these are the categories to expect:
Mahjongg: AARP Rewards Mahjongg Dimensions, Holiday Mahjongg Dimensions, Mahjongg Candy, Mahjong Dark Dimensions, etc.
Solitaire: Addiction Solitaire, Crescent Solitaire, Classic Solitaire, FreeCell Solitaire, etc.
Arcade: 10X10, 5 Roll, 8 Ball Pool, 9 Ball Pool, Asteroids, Alu's Revenge 2, Block Champ, etc.
Word and Trivia Games: AARP Right Again! Trivia, Codeword, AARP Right Again! Trivia Sport, Daily Crossword, etc.
Juegos: Crucigramas difíciles, Crucigramas fáciles, Palabra de Código, Texas Hold'em: Poquer Clasico, and Texas Hold'em: Poquer Torneo.
Card Games: Blackjack and Bridge.
Atari and Retro Games: Asteroids, Missile Command, Centipede, Snake, Pong, and Throwback Thursday Crossword.
The Best AARP Free Online Games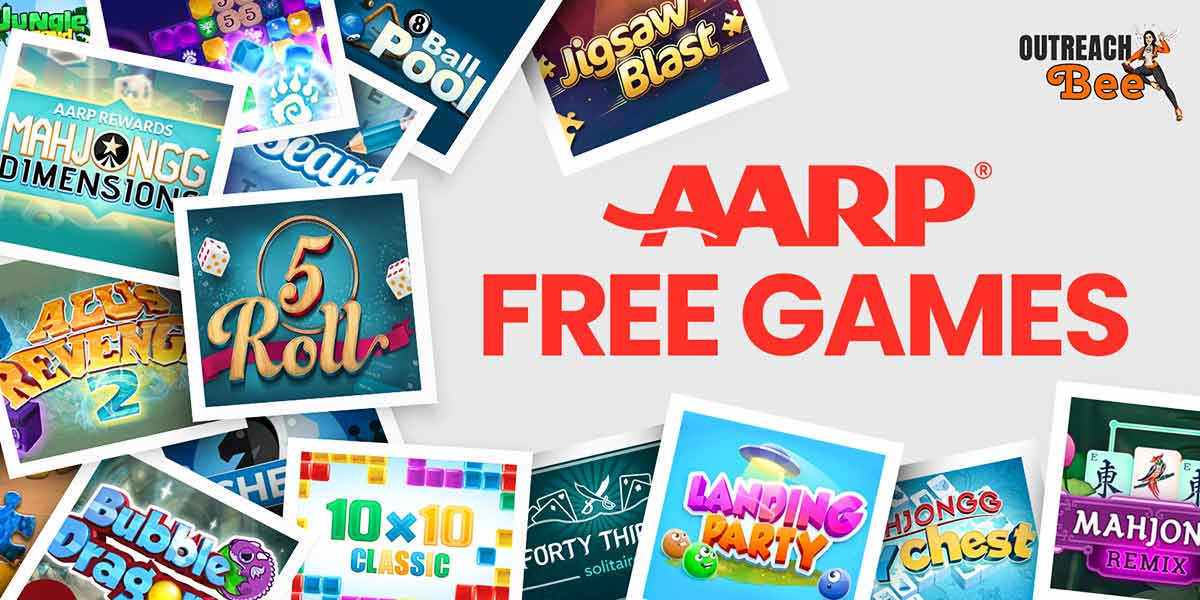 Research shows that 50 years and older gamers have grown by over 12 million over the past 12 years. The statistics mark a 38% growth in older adult gamers who leverage top AARP Games to stay sharp, connect socially, and lower stress levels. Here are the 11 best AARP games for players of all ages:
1.    10X10
Playing 10X10 is similar to playing Tetris. This is the game to go for if you want an addictive game that can challenge your puzzle-solving skills. It is an excellent way of learning how to make decisions under pressure.
As the name suggests, you will be playing on a ten-by-ten grid with differently-shaped tiled blocks descending from the top towards the bottom of the grid.
Your objective will be to strategically place on the grid to clear lines and earn points. After completing a line, it disappears to create room for more blocks.
You lose if the playing field gets filled with blocks. Be sure to place as many blocks as possible to earn more points.
2.    Word Wipe
Word Wipe is a game designed to enhance players' language abilities. It helps build vocabulary while having fun at the same time.
In this game, you will have a 6×6 grid filled with letters, and the goal is to find words in those letters. You can link the letters vertically, horizontally, or diagonally to make words.
There are different variations of this game with varying time limits. But most versions have a time limit of two minutes, which means you will be competing against time to form as many words as possible before you run out of time.
The minimum word length allowed is three letters. You'll earn points for every correct word you create in this game, with longer words giving more points.
If a few letters are left on the game board, and you cannot form any more words, you can use the bomb. The bomb usually explodes the remaining letters, allowing you to receive double points for clearing the board.
One trick you can use to get the most out of this game is to wait until the end, then use the bomb.
3.    Daily Crossword
The origin of the Crossword game dates back to 1913 and is still relevant today. It's a game that will teach you a lesson or two on how to find things hidden in plain sight and be more aware of your surroundings.
AARP's Daily Crossword is suitable for players looking for a challenge that can be completed in a short period. AARP usually gives players new puzzles every day to test their puzzle-solving skills.
In this game, you will be presented with a rectangular grid composed of black and white squares. Your work will be identifying words based on the clues given, then filling the white squares with those words.
The game serves as a good distraction to kill time while enhancing their vocabulary, spelling, and memory skills at the same time.
4.    Trizzle AARP Game
Trizzle is among the popular games AARP offers players who want an online pastime to boost their strategic thinking. The Trizzle AARP game comes with a colorful grid with Russian nesting dolls of different sizes.
Your goal is to match three identical Matryoshkas (same size and color) in the same row or column. You must swap adjacent dolls to achieve this.
In case you get stuck, you can use a boost to continue your score before running out of moves.
One trick you can use to get high scores in AARP's Trizzle game is to create a set of the three largest nesting dolls near the center of the board. It's better than spending an extra move or two for positioning.
This is based on the idea that there will be extra dolls around those that form from that set. So, if the doll spins and makes the surrounding dolls larger, more dolls will become larger, allowing you to score more points.
5.    8 Ball Pool
8 Ball Pool is among the free online games AARP offers to pool table lovers across the globe. This multiplayer game is easy to learn but challenging to win.
The objective is to pocket all the balls assigned to you at the beginning — either solids or stripes — then pocket the 8-ball last. The first player to achieve this becomes the winner.
6.    5 Roll AARP Game
5 Roll is a classic dice game similar to Yahtzee. When you launch the AARP 5 Roll game, you will be presented with a virtual scoreboard for recording points according to categories.
To play, simply roll 5 dice and choose the category of the scores to keep and the ones to re-roll. That means you'll be choosing the best combination of dice rolls to earn points, and based on the outcome, fill out your scorecard strategically to maximize each roll.
The categories include 1x, 2x, 3x, full house, 3 of a kind, four of a kind, etc. The goal is to get the highest scores possible and use them to fill as many categories as you can to hit the highest total score. Note that you must fill these categories with a score or a zero to win.
7.    AARP Sweet Shuffle
AARP Sweet Shuffle is a strategy game with a theme based on sweets. You will have a grid of candies, and the requirement will be to shuffle them vertically or horizontally to attain the highest score.
In AARP's Sweet Shuffle game, you will be competing against a limited number of moves, increasing the game's challenge so you can strategize your gameplay.
You gain a point after matching three candies, after which the line clears to create room for the candies falling from the top of the grid. Every move you make leads you towards a more difficult level. Attaining larger matches in AARP Sweet Shuffle can significantly boost your score.
8.    Mahjongg Dimensions
The traditional Mahjong game was first played in ancient China. It is good for improving memory, focus skills, and pattern identification abilities.
The AARP games official website features around ten variations of the traditional Mahjong game, including Mahjongg Dimensions, with unique rules and objectives depending on the difficulty level.
Winning in this game depends on your speed, memory, and creativity. The goal is to remove pairs of matching tiles from the board by clicking them. Each cleared pair becomes a point.
The best part of playing Mahjongg Dimensions is that you are allowed to spin the cube to get different angles—it presents you with the cube's 3-dimensional layout. The feature helps players to plan their moves better. The complexity of this fast-paced game increases as you progress through the levels.
9.    Classic Solitaire
While there are several Classic Solitaire, the basic rules are the same. It's among the best free online AARP games offered to people of all ages.
Classic Solitaire requires skill and concentration to lay out cards or tiles. You must use different strategic approaches every time because it has different starting points.
In this game, the objective is to remove cards from a deck. This can be done by stacking them in a pattern on top of one another. Aim to arrange all the cards on the four foundation piles; Diamonds, Spades, Hearts, and Spades.
You organize them by placing cards of the same suit and rank from Ace to King in ascending order. You can put any card on top of another, provided the card value and suit match.
One unique feature of the game is that players can only sort the cards on the field in descending order with alternating colors. This means a black card should only be placed on top of a red card and vice versa.
This card game requires you to think logically and to come up with a winning strategy.
10.    Asteroids
Asteroids is among the classic games published by Atari. Atari was the first gaming company to bring this game to life in 1979. Since then, Asteroids has inspired many subsequent games, like Missile Command.
The game involves undertaking an adventurous mission in an asteroid field, with the ultimate goal being to control a spaceship and destroy all the asteroids and saucers flying around.
As you shoot and destroy incoming asteroids, remember to avoid colliding with them and other hazards like being hit by saucers' counterfire.
11.    Jewel Shuffle
Jewel Shuffle is another fun and challenging game that'll hook you for hours. The game's objective is to match three or more jewels of the same color either horizontally or vertically so you can remove them from the board.
A successful match translates to points. The longer the links, the higher your bonus becomes.
In AARP's Jewel Shuffle game, you can create the Power Gem by aligning four gems together. A Power Gem can replace the original gems of the same kind.
Typically, the Power Gem will flash and whirl when activated. After aligning the power Gem to make three in a row, it explodes to destroy the gems in its immediate proximity, giving you extra points.
Jewel Shuffle is among the top addictive online games that you can play until you run out of moves.
Final World
Who said getting smarter can't be addicting? With the AARP games discussed above, training your brain doesn't have to be boring. It can be an addictive undertaking and an exciting hobby as well.
Arkadium is another platform offering the same mind-challenging and addictive fun as AARP. Check our guide, Arkadium Free Online Games, for more mind-stimulating online games and fun.
Besides, if you love streaming live sports online, check our Sportstream guide and discover tips on streaming live sports smoothly for free.