Guide to Playing the Best Puzzle Games for Free 
For years, puzzle games have captivated the hearts of gaming enthusiasts globally. They have been offering both online and offline gamers a refreshing experience away from their daily distraction due to their fun and unique problem-solving nature.
Consequently, a lot of game developers have collaborated with game publishers to ensure players of all ages and skill levels have a place to challenge their problem-solving skills in a fun way.
Our guide to playing the best puzzle games for free will take you through these type of games, where to play them, and the benefits of playing them online. Let's start with a basic understanding of how puzzle games work!
What Are Puzzle Games?
Puzzle games refer to online or offline games that require someone's ingenuity and ability to use their mind to solve problems in a fun way. Primarily, their gameplay mechanic revolves around completion, which means players must navigate a challenge to progress to the next stage with a more difficult problem to solve.
There are two main types of puzzle games: single-player and multiplayer puzzle games. However, single-player puzzles are more common than multiplayer puzzle games.
The Best Types of Puzzle Games On the Internet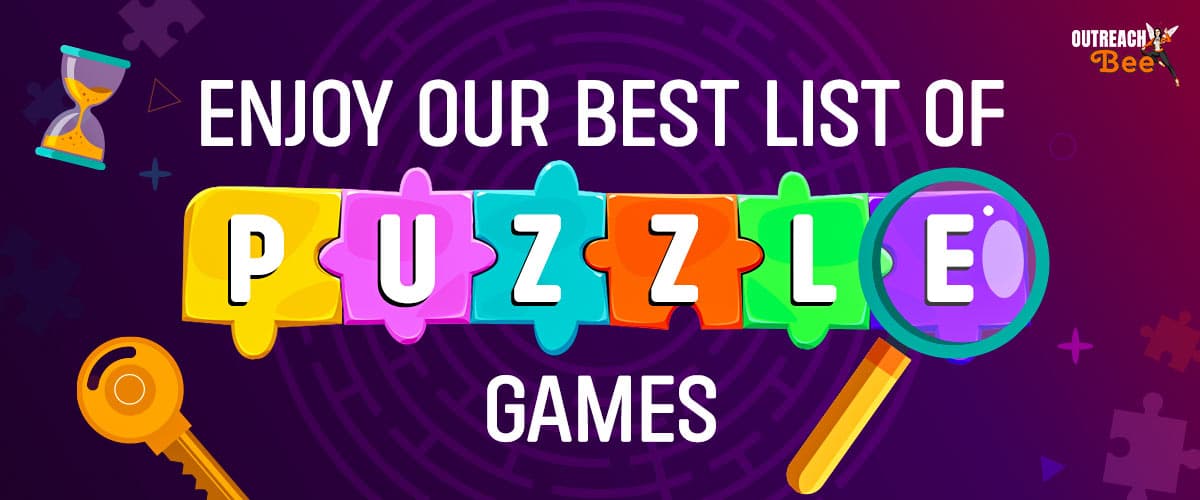 Whether you are a new player or a puzzle enthusiast looking for an online fun activity to stimulate your mind, there's always a game for you out there. That said, we have compiled some of the best categories of puzzle games to help you choose the perfect fit for your online gaming adventure.
1.    Word Puzzles
Word puzzle games are designed to gauge your ability with language and words. Their gameplay mechanics revolves around manipulating letters to form words or phrases.
Besides entertainment, word puzzle improve your vocabulary and cognitive abilities.
Like most types of puzzle games, word games come in different forms and difficult levels. Some of the most common forms of word games online include:
Crosswords
Wordle
Word Search
Scrabble
Hangman
Fill-ins
Anagrams
Acrostic puzzles
2.    Jigsaw Puzzles
The gameplay of jigsaw puzzles involves assembling irregular or uniquely shaped pieces to form a complete picture or image. Similarly, jigsaw puzzles come with different difficulty levels. Typically, the more pieces there are, the harder the challenge.
Some common types of jigsaw puzzles include:
3D Jigsaw Puzzles
Flat 2D Jigsaw Puzzles
Murder Mystery Puzzles
"Repetitive Design" Jigsaw Puzzles
3.    Number Puzzles
As the name suggests, the gameplay of Number Puzzles revolves around manipulating numbers to find a solution. To win in these mind-training games, you'll need a combination of mathematical and logical problem-solving skills.
Some of the most common types of Number Puzzles include:
Sudoku
Kakuro
Number Fill-ins
Slide and Merge Numbers
Magic Squares
Number Riddles
4.    Match-3 Games
Match-3 games are a genre of online puzzle games in which players match similar adjacent pieces to form a uniform combination to earn points. Once the combination is formed, the pieces disappear to create room for more potential combos. Typically, the objective of playing match-3 games is to rack up as many points as possible within a given period or a set number of moves.
5.    Pattern Recognition Puzzles
Pattern Recognition games are a genre of online puzzle games that require players to identify similarities within a given sequence or data set to solve a problem. Typically, their gameplay mechanics revolves around identifying, creating, and predicting patterns to solve a challenge.
In this category of puzzles, you'll need your discernment to identify regularities or relationships between patterns in order to solve a challenge, including the next pattern in a sequence.
Sites You Play the Best Puzzle Games for Free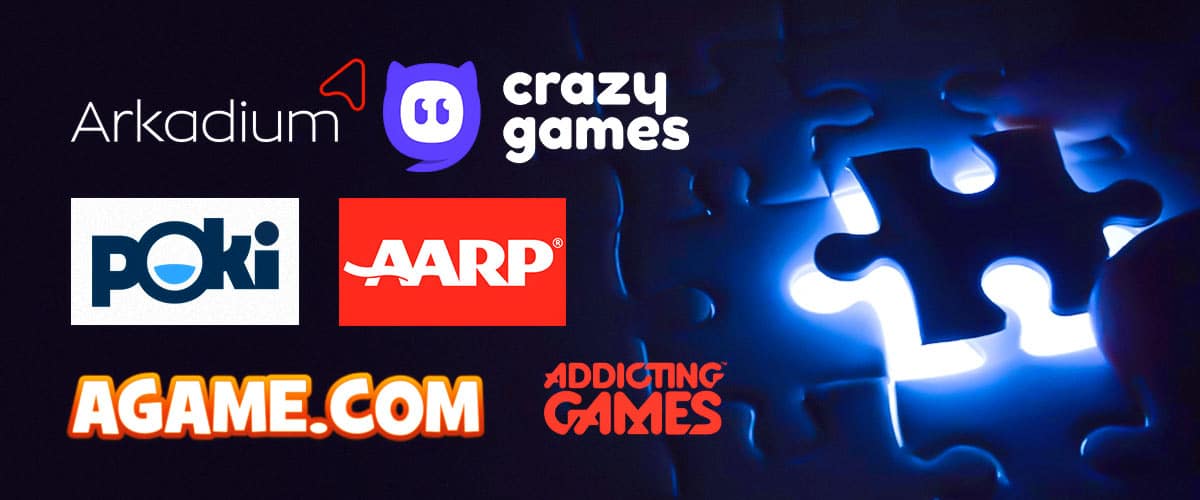 The internet is awash with hundreds of thousands of puzzle games. However, not all these games are worth your time. In that case, we have listed some of the best platforms where you can play the best single-player and multiplayer puzzle games for free. They include:
1.    Arkadium.com
Arkadium is billed as the creator of the world's most-played games. The platform boasts over 100 free games that can be played directly from web browsers.
A lot of brands and publishers work with Arkadium to create superior games and reach millions of gamers worldwide. Mostly, they create games for grown-ups. Some of the best Arkadium puzzle games include:
Sudoku
The Daily Jigsaw
Hurdle
Arkadium's Tile Match Flowers
Hurdle
2.    CrazyGames.com
CryzyGames.com is the platform that will give you the latest and best online puzzle games for free. CrazyGames.com works with gaming developers across the globe to constantly offer high-quality browser games for children aged 13 years and above. They feature more than 7000 games to choose from. Some of the best puzzle games at CrazyGames.com are:
Words of Wonders
Match Arena
Skydom
Platform Jigsaw Puzzle
Word Wipe
3.    AARP Games
AARP Games is a division of a nonprofit organization called AARP Foundation, which focuses on helping individuals above 50 years to improve their lives. The games offered by AARP are particularly brain-stimulating games created to help the older generation sharpen their skills.
These games are an excellent way of having fun online with friends because AARP allows you to join an online group for social interaction and more support. As an adult player, you can also join the AARP Rewards, a loyalty program where you'll be awarded gifts for a life well played.
Some of the best puzzle games for adult players on AARP Games are:
Daily Crossword
10×10
2048
AARP Rewards Mahjong Dimensions
Codeword
4.    Agame.com
Agame.com: This is one of the best sites to play online puzzle games for free. It features thousands of puzzle games for both old and young players. Some of the best agame.com puzzle games are:
Bubble Shooter Extreme
100 Arabian Nights
Mahjong Link
Jewel Shuffles
Park Me
5.    Poki.com
Poki offers the best free online game selection to play alone or with friends. The completely free online playground gives video game enthusiasts a super fun experience void of distractions like pop-ups, download requirements, or download requests. They even have a section with games dedicated to kids. Simply visit Poki Kids to see the most played games under this category.
Some of the best puzzle games to play on Poki.com are:
Jigsaw Surprise
One Paradise
Free The Key
Loser Quests
Water Color Sort
6.    Addicting Games
Addicting Games is one of the US's largest online games sites for a reason. Besides featuring thousands of instant play games under different categories, they boast over 10 million users every month.
Addicting Games works closely with game developers across the globe to release new games every Thursday. Besides, they regularly update their features based on current trends in the video gaming industry. The most popular puzzles on addictinggames.com are:
Fold Paper
The Daily SNOOP
The Impossible Quiz
Link It Up
Bubble Spinner
Benefits of Playing Puzzle Games Online
The thousands of puzzle games created for adult players and children are designed to offer a wide range of benefits and an enjoyable pastime online. That said, here are some amazing benefits of playing these games — both online and offline plus single-player and multiplayer puzzle games:
Improved Memory: Puzzle games are a form of mental exercise. Most puzzles, particularly pattern recognition games, require players to recall information to solve an immediate challenge. This can enhance the existing connection between brain cells, improving mental speed and thought processes. They particularly enhance short-term memory because that is what you'll mostly need to figure out the shape or color needed to visualize the bigger picture in a game.
Enhanced problem-solving skills: Basically, puzzle games are all about solving problems and navigating different challenges. As such, these type of games can train your mind to think critically when solving in-game problems, improving your creativity even in real life.
Reduced Stress: Puzzle games can also lower stress levels among players, particularly after a long day. They can help you feel a sense of accomplishment whenever you solve a problem. In doing this, you can cultivate the ability to make deeper connections and improve your mindset.
Improved patience: A lot of trials and errors are involved in navigating in-game challenges when playing puzzle games. They can train the mind to concentrate when solving challenges, which increases your productivity in the long run.
Mood Improvement: Playing online puzzles can be a form of mood enhancer. Most are designed to cause the brain to produce dopamine, a neurotransmitter regulating mood and feelings of optimism, whenever you solve a puzzle.
Final Thought on Our Puzzle Games Guide
For most of us, puzzle games are a part of our childhood memories. In that case, a lot of developers have collaborated with game sites to offer the best experiences to video game enthusiasts across the globe.
You can visit the sites mentioned above to find the game that suits your game style and age. This includes single-player and multiplayer puzzle games that can be played directly from a web browser. The games are optimized for smartphones, tablets, and desktop computers.
We are always glad to hear about your experience. If you have ever played these type of games, please share your observation with us.