It hasn't been a good week for Activision. The American games publisher was sued by the state of California for several cases of sexual harassment targeted against female employees. These cases dated back decades. To make matters worse, higher ups like CEO Bobby Kotick have not said anything since the accusations surfaced. This lack of acknowledgement has gone down so badly that a group of Activision Blizzard employees have put together a letter condemning Activision's response.
As reported by Polygon, 800 employees have signed a letter in support of demands that the publisher recognize the seriousness of the accusations. The employees involved have requested that Activision puts out a meaningful statement. Up until now, it has seemingly been trying to sweep the matter under the rug.
The demands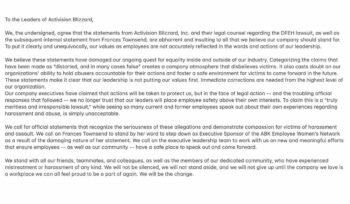 The letter posted by Activision Blizzard employees outlines several issues with the company's response. It starts out by expressing concerns that the leadership at Activision are not accurately representing their employees' values.
Furthermore, workers at Activision are concerned that the publisher's actions are damaging the ongoing quest for equality. Those involved were particularly disappointed in Activision's choice to label the accusations as 'distorted' and 'false' rather than take responsibility.
These words spoken by vice president Frances Townsend were labelled as 'abhorrent' and 'insulting'.  The letter even pushes for Townsend to step down from her role as executive sponsor of the ABK Employee Women's Network. This request was made with the goal of creating a community where people can comfortably speak out and come forward.
As of writing this, Activision Blizzard has neither responded to Polygon or the letter itself. It's unclear what actions the publisher plans to take having been pushed into a corner by its employees. The original plan to manage the situation internally seems impossible now but we'll have to wait and see how the situation develops.