Released just last week, Minecraft Dungeons has gone down as a critical success amongst critics and fans alike. However, some gamers have been frustrated at their inability to play with their friends on other platforms. Given Dungeon's co-op focused design, many felt this was a fatal oversight. There's no need to worry though as developer Mojang has confirmed it's in the works.
In a post published on the official Minecraft website, Mojang detailed its future plans for Dungeons. Amongst the various announcements, the final paragraph gives the official thumbs up for cross-platform play functionality. An exact release date wasn't detailed, but more information can be expected in the "coming weeks."
What's in store for Minecraft Dungeons?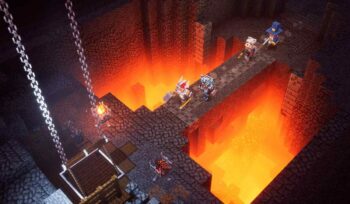 Otherwise, the post also confirmed two separate planned DLCs are on the way. The first of which is Jungle Awakens. A jungle inspired expansion that will feature new missions, weapons, armor, and artifacts for players to enjoy. As for when it's coming, you'll have to wait a little longer as Jungle Awakens is set for a July release.
Following at some point in the future is the second DLC, Creeping Winter. Details of this DLC are currently sparse but we do at least know that Mojang expects it to launch in 2020.
Microsoft should be very pleased with how Minecraft Dungeons has turned out. It's the American publisher's second attempt to create a Minecraft spin-off with its first being Earth.
Minecraft Earth is an augmented reality sandbox game currently in early access. The idea is that, once finished, players will be able to build structures in real life through the power of AR. For now, we'll just have to wait to see how that turns out. If you are looking to kill some time, Minecraft Dungeons is by no means a bad option to do so.