Console: PS4
Release Date: March 7th, 2017
NieR Automata has been released in Japan while in America we have to wait with bated breath for another month. Automata is the sequel to Platinum Games original title NieR that was released in 2010. There has been a lot of excitement surrounding this game due to the well received demos released in December. For some, the name NieR may be new since it's coming sandwiched between Horizon Zero Dawn and Zelda. To help those that may have missed the information about the game, here are 5 things to get hype about NieR Automata.
NieR's Story Makes Science Fiction Dreams Come True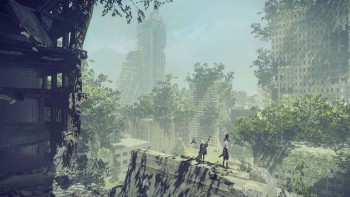 This game takes place in the distant future where humanity is at risk yet again. The Council of Humanity decides to deploy android soldiers to combat the threat using their newest unit YoRHa. These androids will be fighting against more machines to wage a war that may uncover many of humanities forgotten truths.
The Characters Have Mysteries All Their Own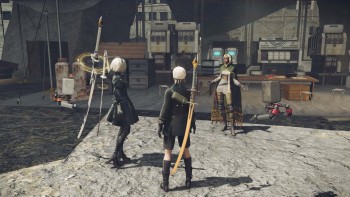 Reading through the character bios on the official NieR site, it seems like the android soldiers are a mystery. The androids assigned to the YoRHa unit appear to have very strict rules set for them. The androids are only assigned code numbers with no real names. They are encouraged to stifle their emotions even though they all have unique personalities. In the demo, players are introduced to new YoRHa unit 2B, environmental research companion 9S and YoRHa obsolete prototype, A2. The characters also have unique battle styles and, at the moment, I am unsure how many players will get to try.
The Setting is Dystopian and Open World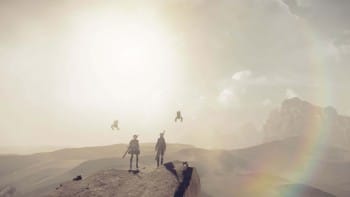 Incoming open world fatigue. The game is beautiful of course and there is a lot of it. The game camera switches perspectives to top down in some encounters or seemingly 2-D as 2B wall runs. The setting gives me a steam punk vibe but there are only a few screenshots of the world at large available. From the demo we know that a bulk of humanity is on the moon so running into other people may not happen often.
Prepare for an Action Based Battle Experience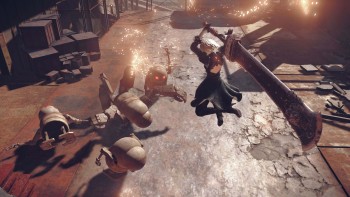 The combat is action based using a mix of light and heavy attacks. Players will be able to block as well to create strategies when taking down foes in the open landscape. The rest of the action combat staples follow like free range of motion, jumping, rolling etc. 2B is the master at slinging around a very huge sword with the fluidity to make a Samurai jealous. 2B also has a robot drone at her disposal to dish out some additional damage.
The Game Is Available For Preorder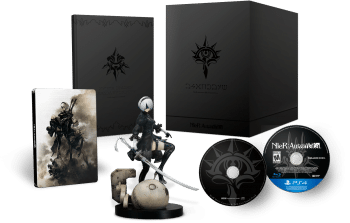 The game is available for preorder and has a collector's edition set for those interested. The Collector's Edition includes a 2B figuring, steel book case, art book, original sound track, the game and bonus DLC of different skins and accessories. The cost for all of this may be a little steep so waiting for reviews is also an option.
Are you excited for NieR? Did you play the demo? Do you think it will live up to the hype? Let us know in the comments below as we wait out this month together.
Comments
comments