It's no secret that being a big-time internet star pays well. Be it YouTube, Twitch or even Facebook Gaming, having a large following is going to earn you some serious money. And that fact has once again been proven true by Valkyrae.
Rachell Hofstetter, better known as Valkyrae, rose to prominence recently thanks to her Among Us videos. Back in October it was revealed that she was the fastest growing streamer in the world. At the start of this year, she was at an already impressive 880,000 subscribers. Over the course of just 12 months this number has grown to a staggering 2.6 million. The craziest part? The bulk of that growth has occurred over just the last five months.
How much does Valkyrae earn?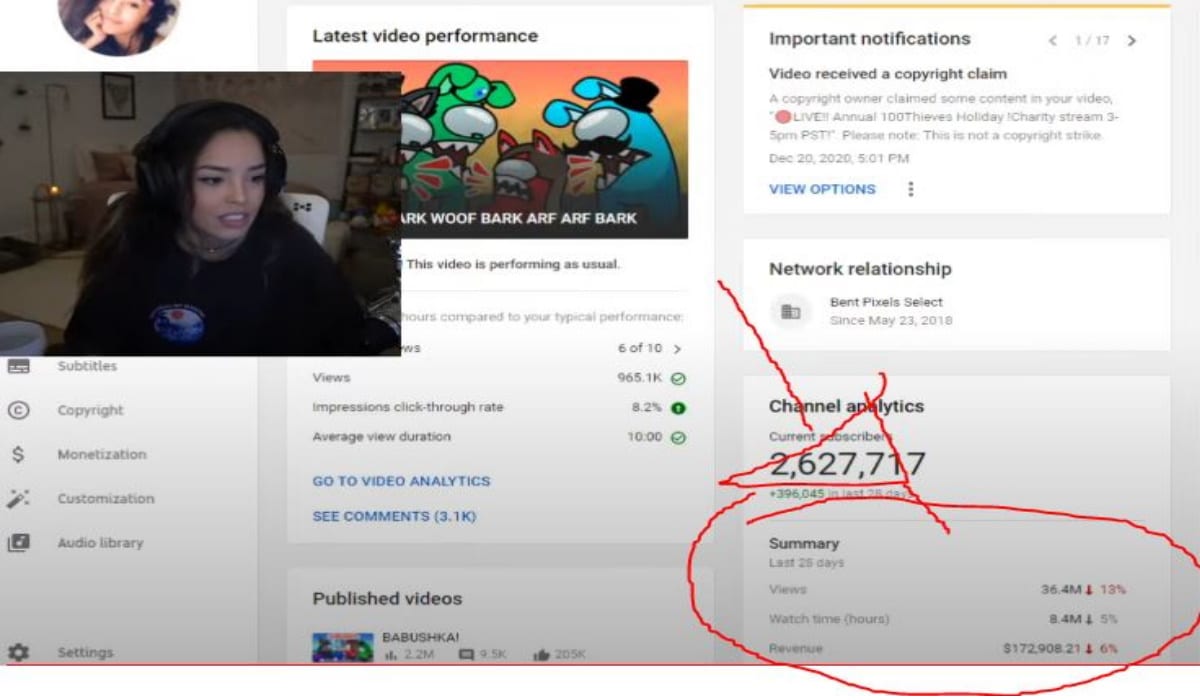 Whilst her growth is impressive, it's not why you're here. On a recent stream Valkyrae accidently leaked her monthly earnings. Whilst searching through her analytics tab, she scrolled down too far and revealed the tracked revenue.
Apparently, 36.4 million monthly views and over 8 million hours of watch time will net you $172,000 a month. Her annual income can't be figured out as it's not as simple as just multiplying this number by twelve. YouTube views fluctuate far too often for that method to work. But what's for sure is that Valkyrae is likely earning in excess of a million dollars a year via streaming alone.
Truth be told, these numbers aren't actually that surprising. For comparison, there was a study that calculated a reasonable prediction of Felix "PewDiePie" Kjellberg's annual income. As the largest independent YouTuber on the planet, the study estimated he is earning over $70 million a year.
Clearly, it pays to be a big content creator. There's no easy path to get there but who knows. With a bit of luck and a good idea anyone can make it. Both Valkyrae and PewDiePie started out as humble, independent content creators. So why not give it a try?