For some time, there have been rumors of a Warcraft mobile game being in the works. It got leaked a few years back but any details beyond its existence have been unknown. That is until now. On the official Hearthstone Twitter account, an announcement was posted that it will be revealed very soon.
Unfortunately, not much else was revealed. The Tweet features a picture of a cog with a blue lightning bolt inside of it. As far as we know that could be essential to the game's story or a random image that was chosen because it looked nice. Blizzard is making a very conscious effort to not give anything away.
If you're interested in seeing what Warcraft mobile is about then you'll want to check out the reveal stream. It is taking place on Blizzard's website on May 3 at 10 am Pacific Time. That's 1 pm Eastern Time, 6 pm British Standard Time, and 2 am Japan Standard Time.
As for what we'll see in the reveal I can only speculate. I'd imagine it will either be a gameplay showcase of sorts or a cinematic trailer to hype up its release. Blizzard is well known for its spectacular cinematics with Warcraft, Hearthstone, and Overwatch all benefiting from them over the years.
Blizzard's redemption arc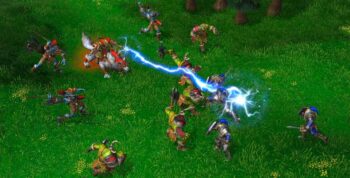 As a company, Blizzard Entertainment has made a lot of unpopular decisions in recent years. Be it the Hong Kong scandal of 2019 or the sexual assault allegations of 2021, it hasn't been popular as of late. Even on the games front, it released Warcraft III: Reforged which was panned by critics for being a lazy remaster released solely to milk fans.
But with Overwatch 2's popularity, the porting of Diablo Immortal to PC, and now Warcraft mobile things are looking up. It still has a lot of work to do if it wants the trust of its fans back but with Bobby Kotick on his way out once Microsoft takes over a comeback looks possible.