Call of Duty: Modern Warfare 2 will have its beta go live next month. As announced at the Call of Duty League Championships, the beta will be playable in September. The beta will provide early insight into its gameplay ahead of the game's official launch on October 28.
As previously expected, PlayStation will get access earlier than other platforms. Both PlayStation 4 and PlayStation 5 players will get to take part in weekend one. Those that pre-order Modern Warfare 2 can play the beta from September 16 to 22 whilst the open beta starts out on September 18 and ends on the same date.
PC and Xbox players will have to wait a little longer. Those two platforms don't get access to the beta until September 22 or September 24 if you don't pre-order. Access to the beta for these platforms will continue until September 26. This second weekend will also be accessible to PlayStation consoles meaning that PlayStation owners who pre-order will get ten days of beta access.
PlayStation having exclusive early access may seem confusing. After all, didn't Microsoft acquire Activision Blizzard? Currently the deal is still being approved and until the green light is given Microsoft has no say on what Activision does. Also, Activision has made it clear that it intends to honor all existing deals regardless of the acquisition. Until PlayStation's exclusivity deal runs out Call of Duty will continue to receive PlayStation exclusive content.
What to expect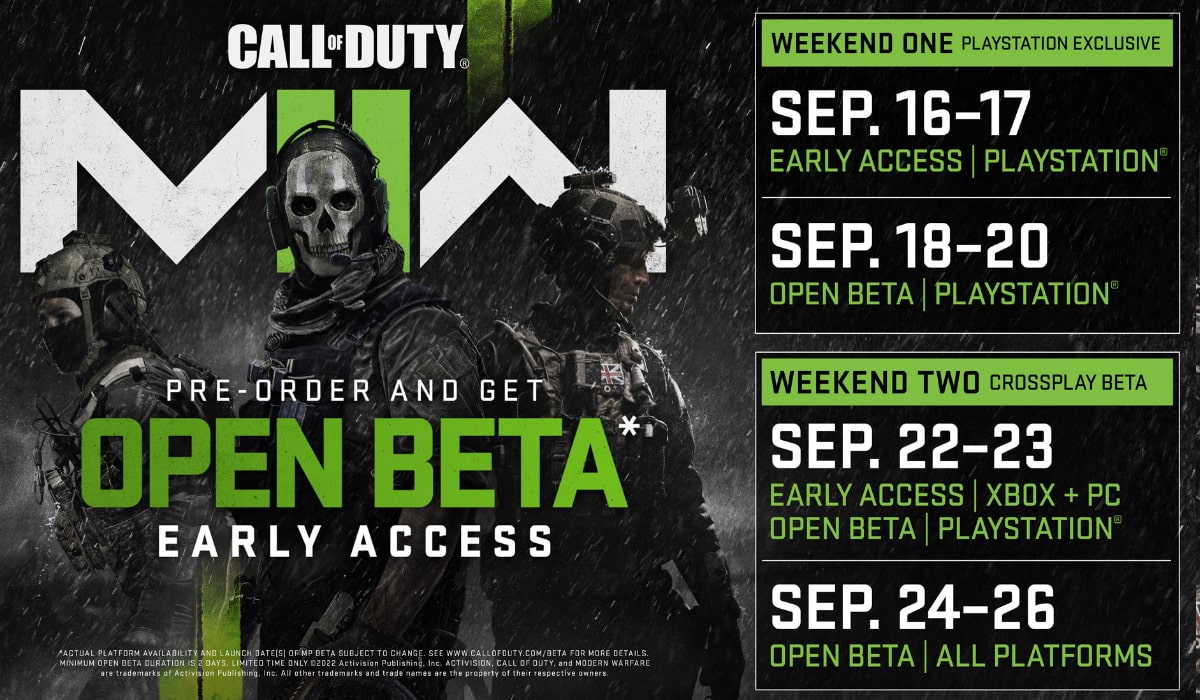 The Modern Warfare 2 beta will have a decent variety of content. Activision has already confirmed that it will feature "a robust multiplayer experience going beyond the Core 6v6 experience". That's PR talk for maps and game modes that aren't just traditional 6v6. Plus, the beta will show off the game's progression system and even give rewards in the full game to those that take part.