Warzone developer Raven Software has released the roadmap for Season 5 Reloaded. The new roadmap details what content Call of Duty fans can expect moving forward in both Warzone and Black Ops Cold War. Amongst the reveals was the confirmation that a Judge Dredd collaboration event will be ran in Warzone soon.
Judge Dredd is a popular British comic series. The story follows a law enforcement officer who is challenged with managing crime in the dystopian city of Mega-City One. It peaked in popularity in the 90s but still maintains a dedicated fanbase to this day.
Another Warzone collab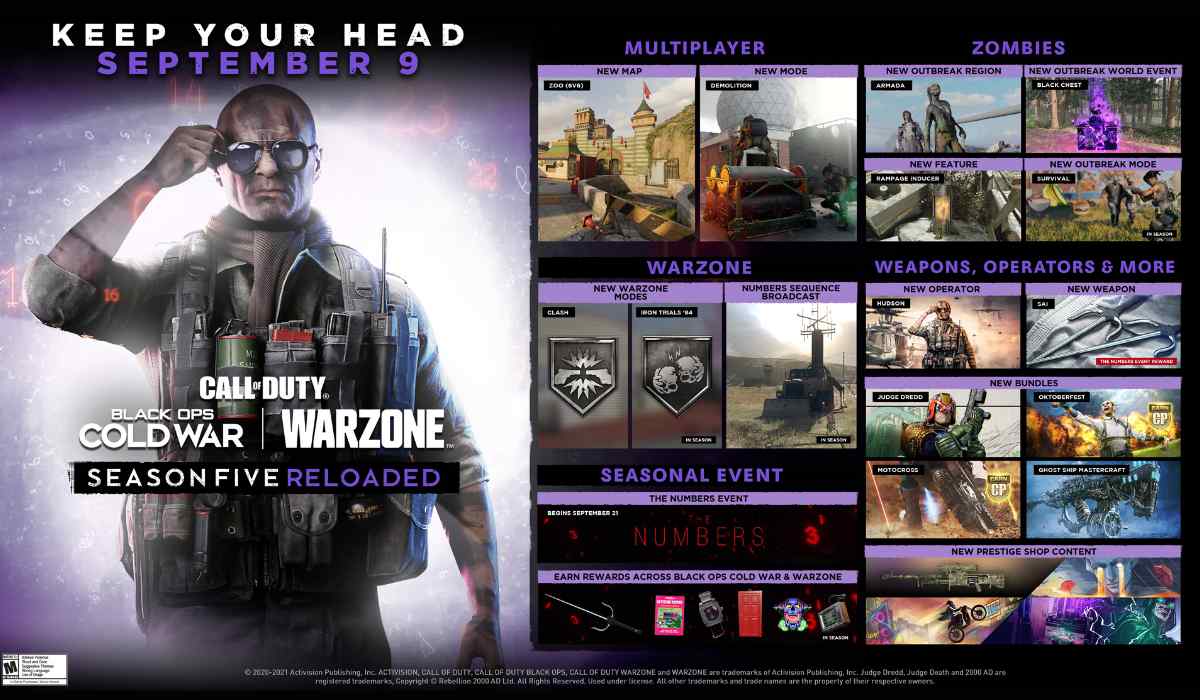 Judge Dredd is not the first collab to come to Warzone. Previously, Activision teamed up with Rambo, Die Hard, and Jigsaw to produce event exclusive cosmetics. Similarly, the Judge Dredd collab will see a new operator and gun skin introduced in a paid bundle. The exact cost of the bundle is unknown.
Interestingly, Season 5 Reloaded will not introduce any new guns into either game. However, a new melee weapon based on the Japanese sai blade will be added. Otherwise, Black Ops Cold War will run an Oktoberfest event, a new Motocross game mode, and a new mastercraft rarity weapon skin.
Warzone itself will see two new game modes introduced. Firstly, there's Clash. Clash is a 50 versus 50 game mode with unlimited spawns and customised loadouts. The other mode being added is Iron Trials '84. It has been designed to be a higher skill version of Warzone with a longer time to kill, no free loadouts, and skill-based gulag mechanics.
Fans more interested in Zombies than Warzone and multiplayer aren't being left out. Season 5 Reloaded will add a new Outbreak region and world event. Furthermore, a new feature called Rampage Inducer is being added alongside a new Outbreak mode, Survival. Further details on these additions can be expected in the near future.
Comments
comments