As per tradition, EA Sports today unveiled its latest Icon Swaps for FIFA 21. For many players this is the most exciting part of Ultimate Team's yearly life-span. Not only is it a great opportunity to earn yourself a legend of the beautiful game, but this year has added unique player packs too.
The format developer EA Canada seems to have opted for is based around player choice. If you want to play it same and get a guaranteed icon, you can. If you'd rather risk your tokens for a big pull instead then that's an option. Alternatively, you can play it safe with the new player packs and build up assets for a squad building challenge down the line.
FIFA 21 Icon Swaps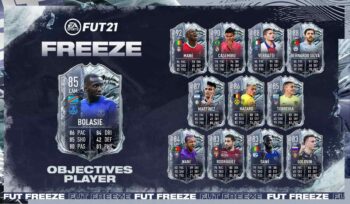 The guaranteed icons that you can net for season one are Vidic, Hagi, Suker, Koeman, and Henry. These vary in cost with Henry being the most expensive at seventeen tokens. As of week one, you can only get up to eight tokens. Five of them are awarded through Friendlies whilst the other three can be earned in Squad Battles.
If you'd prefer to build up your assets instead, there are packs for just that. Two tokens can be traded in for two Ultimate Packs. Three tokens nets you five 85+ overall rated players guaranteed. Finally, five tokens will earn you an incredible twenty five 83+ overall rated players guaranteed.
And today's updates doesn't just stop at Icon Swaps. Replacing the previous FUTMAS promo, the new Freeze promo has plenty to offer. The most notable part of the promo is the full Freeze team that comes along with it. This includes several meta defining cards like Mane, Martinez, and Hazard.
Throughout the event EA Sports will be releasing daily SBCs to go alongside the full Freeze team. There will also be several new objectives to focus on for untradable Freeze cards starting with Yannick Bolasie. Sound like a lot? Then be sure to get stuck into Icon Swaps as soon as possible to not miss out.