Grand Theft Auto: The Trilogy – The Definitive Edition has been universally slammed by gamers and critics alike. With it currently sitting at an embarrassing user score of 0.7 on Metacritic, it's fair to say that fans are not happy. Many feel that Rockstar was lazy and did not give the games their due respect. To make matters worse, a fan-made HD Texture Pack for San Andreas Remastered looks to be doing exactly what Rockstar won't.
That's right, it is making San Andreas look good. The mod is available on Nexus and aims to overhaul the textures present in the remaster. Once it is finished the hope is that it will make San Andreas Remastered look as good as it should have done, to begin with.
Upstaged by a mod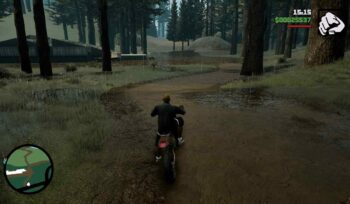 It isn't a good look for publisher Rockstar Games that it has already been upstaged by a fan-made mod. Just two weeks after release the mod maker has already improved the roads, highways, pavements, and various floor textures. In this short time frame, this HD Texture Pack is already looking great and gives San Andreas Remastered some much-needed life.
San Andreas Remastered HD Texture pack | Downside
The downside is that right now all of the new textures are rendered in 4K. It may look nice but such a high resolution makes for large file sizes and a demanding game. Given that the vanilla game isn't well optimized in the first place these enhancements may cause further issues.
Also, this HD Texture Pack for San Andreas Remastered HD texture pack is nowhere near being complete. This means that you should expect a lot of inconsistencies in visuals whilst playing. Some areas will look fantastic whilst others dated.
To Rockstar's credit, it has acknowledged the trilogy's issues. The Grand Theft Auto publisher has promised to address the various technical issues. Despite this, it seems unlikely that without the help of mods they will ever be worth buying.