It feels as though every few weeks Grand Theft Auto 6 will trend on Twitter for one reason or another. However, today's reason is the most exciting yet. In a tweet posted on the official Rockstar Games Twitter account, it was confirmed that GTA 6 is in development.
That's right, nine years after the last installment was released Rockstar is finally launching a new Grand Theft Auto. The tweet explains that the delay was caused by its goal: "to significantly move beyond what we've previously delivered." Given that Grand Theft Auto V is one of the best-received video games of all time that will be a serious challenge.
It wasn't just GTA 6 being confirmed that has fans excited. Rockstar also continued to promise they would share "more as soon as we are ready." In other words, more details about the next Grand Theft Auto may be on the horizon. Although an exact time frame for that is not provided.
Truth be told, it was already largely assumed that the next Grand Theft Auto was in development. After all, if it wasn't then fans would likely be waiting several more years before it released. How long it has been in development is unclear, but a decade-long development cycle isn't out of the question.
End of an era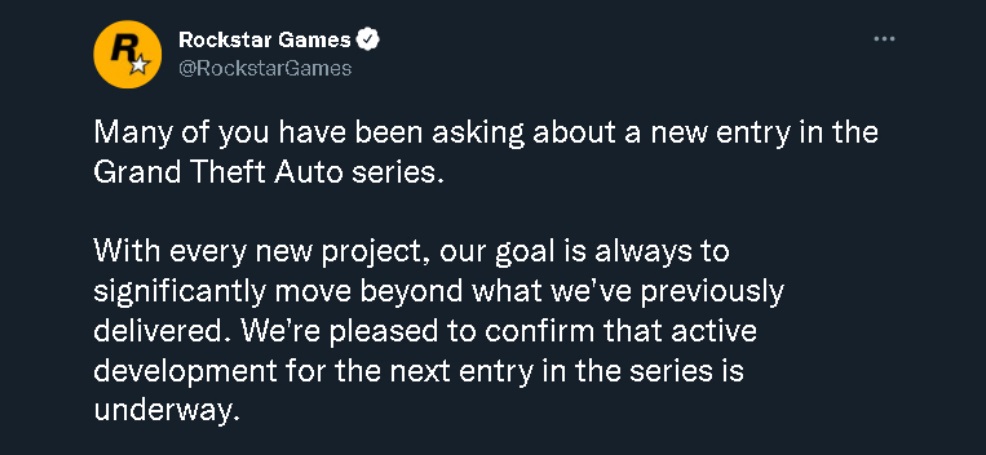 Since its release in 2013 Grand Theft Auto V has become somewhat of a running joke amongst gamers. Rather than develop new games Rockstar has instead re-launched GTA V across three different generations of consoles. It first appeared on the Xbox 360 and PS3, then Xbox One and PS4, and will soon debut on Series S/X and PS5.
Seeing GTA 6 confirmed is great news as it should signal the end of the GTA 5 remakes. Hopefully, moving forward we can look forward to new and exciting games made by Rockstar rather than playing the same ten-year-old alternatives.