Many video games have received film adaptations over the years. Some popular examples include Pokémon Detective Pikachu and 2020's Sonic the Hedgehog. One of the upcoming films to add to this list is the Borderlands Movie. Since the Borderlands Movie was first revealed in 2015, Lionheart has been announcing what actors will be involved with Gina Gershon being the latest addition.
In case you are unfamiliar with her works, Gina Gershon has been an established actor since the 1980s. Some of her most iconic roles include Cristal Connors in Showgirls and Riverdale's Gladys Jones. In the Borderlands Movie she will be playing Mad Moxxi.
Who is Mad Moxxi?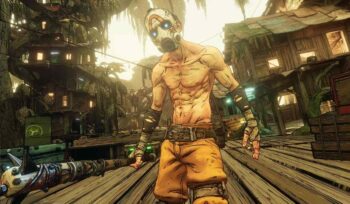 Mad Moxxi is a reoccurring character in the Borderlands games. She first appeared in the original and has since played a role in all three mainline games. Moxxi even appears in the spin-off, The Pre-sequel, where she is responsible for the destruction of the Eye of Helios.
Moxxi is a sadistic and lustful character best known for her many innuendos. She also runs several bars across Pandora under the brand "Moxxi's." These provide a space where the player can use slot machines to try and earn various rewards including legendary weapons.
Gina Gershon joins a large list of popular actors that have already been cast in other roles. The full list can be found on the Borderlands Movie IMDB page. The list includes some well-known name like Kevin Hart as Roland, Jack Black as Claptrap, and Cate Blanchett as Lilith.
At this stage it's difficult to say how good the Borderlands Movie will be. At their worst, video game movie adaptations end up as some of the worst products in the industry. But the likes of Tomb Raider and Mortal Kombat exist so who knows. Maybe it'll end up being better than expected.