The original DOOM first made its MS-DOS debut way back in 1993. Since then it has seen ports onto a wide range of platforms including SNES, Xbox 360, and Switch. Its most recent update announced earlier today looks to modernize several versions of both DOOM and DOOM II.
The only requirement to be eligible for this free update is to own either The Ultimate DOOM or DOOM II: Hell on Earth on Steam. If you purchase either produce now you'll also get the upgrade for free. Both Ultimate DOOM and its sequel will set you back £3.99 each.
What's in the DOOM update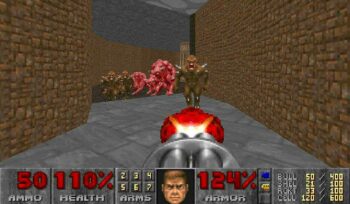 This update aims to bring both classic FPS titles into the modern age with a ton of quality of life improvements. For instance, both games will now support widescreen rendering. This means playing on a 16:9 monitor will no longer result in either black sidebars or a stretched screen.
Also, official support for both DeHackEd and Deathmatch 3.0 has been added. The former is a very popular fan patch many DOOM players use to add more content to their game. This includes new weapons and diverse enemy behavior patterns.
The introduction of Deathmatch 3.0 will allow players to go head to head with their friends via local co-op. This was already a popular model within the community but was never officially recognized by the developers. This change means that Bethesda will now offer full support for the fan-favorite game mode.
Finally, Bethesda has used this opportunity to optimize this game experience on mobile. The iOS version of this game now features advanced touch controls, native controller support, and a custom FPS limiter. The latter is a nice addition for those who own mobile devices with higher refresh rates than the industry standard 60hz.
If you enjoyed this article consider dropping a comment below giving your thoughts on the big DOOM update.