Just last June indie developer V1 Interactive released its first title, Disintegration. Disintegration is a sci-fi FPS designed by former Halo co-creator Marcus Lehto. Despite Lehto's obvious experience in the industry, the hovercraft shooter has completely failed as a multiplayer game.
In order to cut back on costs, V1 Interactive have decided to close down all multiplayer servers come this November. Despite this, the FPS will still be perfectly playable as a single player, story focused game. When the multiplayer servers are closed, all players will lose all of their progress made up to now.
The tale of Disintegration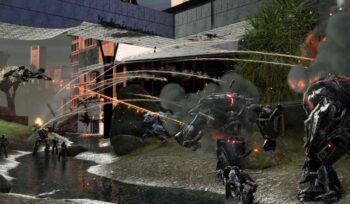 The official announcement posted on Twitter gave an insight as to how this decision has come about. It reads: "While our player based showed interested in the single player campaign, the game unfortunately struggled to build a significant audience necessary for a compelling multiplayer experience."
Despite Disintegration's shortcomings, V1 Interactive does not regret the design decisions made. As the statement puts it, the developer "stands by the creative risks taken to launch such a unique, genre-bending game." And to be fair, it may have a point. Even if it failure commercially, that is no fault of the game itself.
Think about it this way. Despite being a large-scale, well-funded, and published sci-fi first person shooter, you've probably not heard of Disintegration before now. Unfortunately, it was very poorly marketed and never managed to reach out and find an audience. The fact that stories of its failure are likely bringing it the most attention its ever had is just sad.
What will be interesting going forward is if V1 Interactive opts to support the single-player long-term. It's story mode has attracted a decent player base but that will likely only last so long. Without new updates and content Disintegration will truly die out sooner or later.