Deliver Us Mars has been delayed until next year. The upcoming atmospheric sci-fi adventure game was originally going to launch on September 27. However, developer KoekeN Interactive has announced that it is pushing it back. This announcement was made of the game's official Twitter page.
The announcement reads "Deliver us Mars is Koeken Interactive's most ambitious project to date. The journey that players will take as Kathy Johanson is packed with deeply emotional moments and fraught with danger. It is important to use that this experience is the best it can be at launch. With this mind, we've made the difficult decision to move the release date to February 2 2023".
KoekeN Interactive goes on to apologize for the inconvenience but makes it clear that this is necessary. The developer is concerned that rushing out the product would only hurt it. A lot of people were excited to play Deliver Us Mars but it's understandable why it has been delayed.
Those excited for the game's release shouldn't be too disappointed. There's still content to look forward to in the short-term. KoekeN Interactive will be at this year's Gamescom with a full showcase of what Deliver Us Mars has to offer including a new trailer. Fans can expect that reveal on August 24 as part of Gamescom's Future Games Show event. You can expect more reveals to follow that as we get closer to launch day.
The right call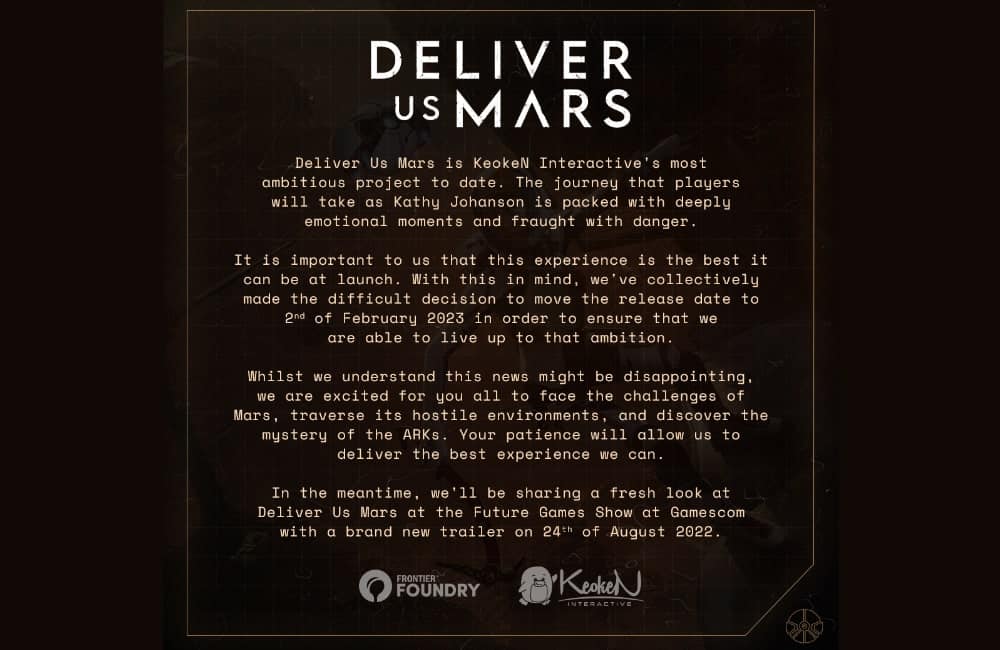 Deliver Us Mars being delayed is predictably not the most popular decision. People don't like having to wait longer to play something they are looking forward to. Even so, most of the time when a game is delayed it has been delayed for a good reason. Rushing out a game to meet arbitrary deadlines results in employees being overworked, more bugs, and an overall less polished product.