Released last September, Borderlands 3 is the latest entry in Gearbox's legendary looter shooter franchise. However, up until now there's been a significant pay wall in the way preventing players from trying it out. Thankfully as of this weekend, anyone interested will be able to give it a go for free.
Borderlands 3 is free-to-play on every major platform it was released on this weekend. That includes PS4, Xbox One, Steam, and even Google Stadia. Unfortunately, Switch owners are out of luck as Borderlands 3 never found its way onto Nintendo's hybrid console.
Is Borderlands 3 worth trying out?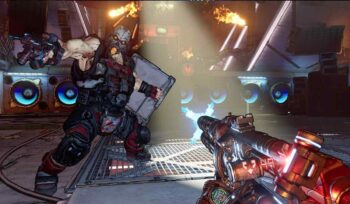 For free? Most definitely. Even with its notable faults its still a very well made game with an interesting enough plot. It's possible you'll be able to power through the whole story in one weekend although that will require some serious dedication. If you're just playing through the story normally, expect a full playthrough to take around 20 hours.
It would be best if you can find a friend or two to play along with as Borderlands 3 is designed primarily to be a co-op game. And thanks to this year's new shared loot and level scaling systems, lower level friends will no longer have a rotten time getting killed over and over.
If you do enjoy your time with it and choose to pick it up, consider buying the DLC too. Currently there's three released pieces of DLC: Moxxi's Heist, Guns, Love, and Tentacles, and Bounty of Blood. The first two bring back classic Borderlands characters not featured in the regular story, like Gaige and Timothy Lawrence.
For further information be sure to check out our review of Borderlands 3. It provides an in-depth breakdown of the gameplay, narrative, and graphics. Otherwise, you can purchase the looter shooter on the PlayStation Store, Microsoft Store, Steam, and Epic Games.