Dogs
Watch Dogs release date is getting closer and Aiden Pearce's story is finally getting some fresh updates. Ubisoft has recently unveiled the protagonist's tragic story and how his family background will affect the upcoming narrative. Despite being single with no children, Aiden has two young children to protect. His niece, Nicole Anne Pearce, was accidentally killed by the men pursuing him, leaving young Jackson Kent and Lena Violet with no mother. Aiden Pearce has built an extensive criminal record over the years, including computer fraud, illegal possession of a firearm and grand larceny. Ubisoft didn't specific which crime was responsible for endangering all his family but it's rumored that he simply messed up with the wrong people. However, Pearce is now looking for revenge and he won't stop until he finds those responsible for murdering his niece, as Lead Writer Kevin Shortt stated:
He works for himself and that gets him into trouble, he makes mistakes and his family gets hurt. His niece ends up being killed because some people are looking for Pearce and his niece is accidentally killed. So, he's haunted by the guilt behind this. He's trying to find the people responsible for that.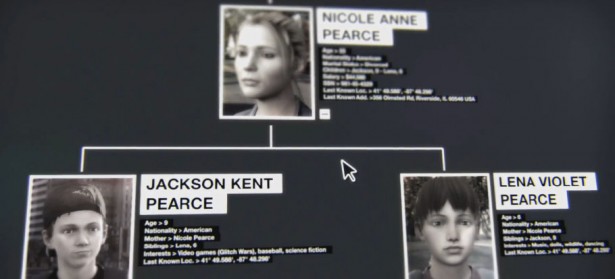 As Pearce investigates Chicago's networks using his hacking abilities, he ends up discovering a bitter reality – things are much more complex than he ever imagined. According to Kevin Shortt, there's a larger criminal scenario running in the stages of Chicago and Pearce's niece was just one murder among many others:
Aiden Pearce has been pulled into the whole situation [surveillance-control system] where he's trying to protect his family but at the same time, he's starting to realize who are the people that have been threatening his family. There's something bigger going on. There's a lot of secrets being held and being used as a commodity.
Now, what's left to know is what kind of people are those. Are they dealers, hackers or perhaps, corrupt politicians? And what criminal activities are they evolved with? Apparently, killing is no issue so it has to be a really ruthless mafia group. There are indeed many secrets to be unveiled but one thing is for certain, as long as vigilante Pearce is out there they won't get away unpunished.