It's not every day that we get a new console announcement out of the blue. However, that's exactly what happened this morning as Valve revealed its new portable console. Named the Steam Deck, it's a handheld PC that will allows you to play your whole Steam library on to go.
Similar to the Nintendo Switch, the Deck is a hybrid console that can be used either portably or docked. When docked it operates as a budget PC of sorts, coming in at just $399. There are pricier models at $529 and $649 that have more internal storage. Regardless of model a Micro SD card can be installed to expand the device's storage capabilities.
How well does it run games?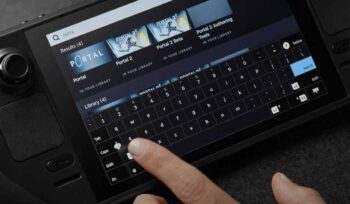 A handheld gaming PC means nothing if it can't actually run games well. There are some genuine concerns in this regard due to the nature of PC gaming. Whilst console games are heavily optimised for specific platforms, PC games have to cater to a wider range of systems.
Thankfully, it appears as though this won't be a problem. During IGN's insider test Valve confirmed that the Steam Deck should be able to run all games at 720p or above. Considering the smaller screen, this should suffice for most titles. Especially if it can deliver a consistent 60 FPS experience too.
It uses a GPU based on the latest AMD RDNA2 architecture. Its CPU is also an AMD based, quad-core Zen 2. These are strong specifications that fall closer to what we thought the Switch Pro would have before the inferior OLED was announced instead.
Valve CEO Gabe Newell admitted in an interview with IGN that the pricing was 'painful' to pick. Clearly, Valve is selling the Steam Deck at a loss in order to sell more and hopefully establish itself in the mobile market. Given that Valve takes a cut out of all Steam game sales, I'm sure it'll make its money back in due time.