Although Bayonetta 3 is nowhere to be seen, series fans do have something to be happy about. Earlier today Platinum Games released its new demo for The Wonderful 101 Remastered. The demo is available on PC, PS4, and Switch and is around 4 GB in size depending on platform.
What's interesting about this demo is that it features a certain witch hunting heroine as a secret character. Bayonetta, the protagonist of the popular hack and slash of the same name, is available straight away in the Wonderful 101 Remastered demo. She was also a character in the original, but she had to be unlocked. This time around though you'll be able to try her out as soon as you load in.
The return of Wonderful 101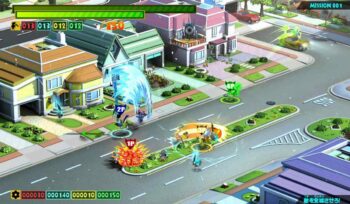 The original Wonderful 101 is one of the many underappreciated Wii U exclusive titles most gamers won't have heard of. Having launched on the failed Nintendo console in 2013, it didn't sell overly well despite receiving critical acclaim. This remaster lets more players try it out whilst also providing it a fresh coat of paint.
The Wonderful 101 Remastered demo is impressive in size. Platinum has put around two hours of game content in there to play. That includes the prologue and all of Operation 001. If you already own the full game then you can redeem code "UMBRANGIFT" to unlock Bayonetta there too.
Similarly to the likes of Super Smash Bros, The Wonderful 101 was originally a collaborative effort that brought together several video game franchises. However, Platinum couldn't convince then publisher Nintendo that it was a good idea. Instead, the developer remodeled the 3D action game around five new unique heroes.
It was probably a good choice to do so considering Platinum had always intended to move The Wonderful 101 to other platforms. I suspect if Mario and Link were involved it would have a hard time doing so. Understandably. Nintendo aren't overly keen on the idea of its star characters appearing elsewhere.