In November Sega released the latest instalment in its signature series, Sonic the Hedgehog. This time around it was Sonic Frontiers which brings an open world spin to the Sonic franchise. It launched to mixed reviews but a lot of fans believe that it could become great with the right additions. The recent reveal of the Sonic Frontiers roadmap shows us exactly what Sega has planned.
There will be three big updates coming to Sonic Frontiers. The opening update will focus on adding quality of life features that are missing at launch. This includes a Juke Box to play you favorite tunes, Photo Mode, and new challenge modes.
The second update will shift the focus to celebration and adding further side content. For the former Sega will run an event celebrating Sonic'c birthday. The blue hedgehog's birthday is on June 23 with this year's marking his 32nd anniversary since the original Sonic the Hedgehog was released. Unfortunately, the Sonic Frontiers roadmap doesn't detail the specifics as to how Sonic's birthday will be celebrated.
Also coming in the second update is a new Open Zone Challenge and new Kocos. These side activities will give players who have completed everything more to do. It's a nice addition but it isn't what most people are looking forward to. The best upcoming update is undoubtedly update three which has fans very excited.
Update 3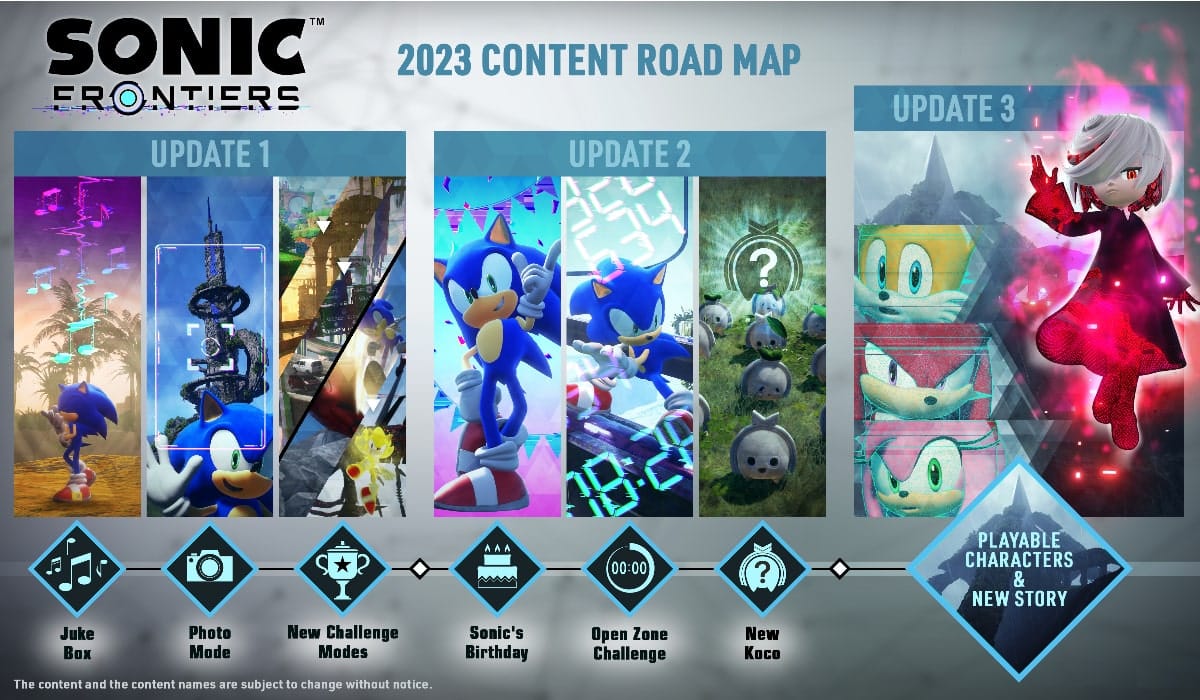 Sonic Frontier's third update will be huge. Sega intends to add a whole new story for players to playthrough which in itself is impressive. Even better the Sonic Frontiers roadmap reveals plans to add three more playable characters. These are Sonic's faithful sidekick Tails, the guardian of the Chaos Emeralds Knuckles, and Amy Rose. All of the announced content will be free and not require any additional purchases, DLC, or microtransactions to access.