Every year the same question is raised amongst the basketball community. Who is going to this year's NBA 2K cover athlete? Usually, this news is confirmed through the game's publisher 2K Games. However, this year we got an inside take from an unexpected source, Shams Charania. According to Shams Devin Booker is set to be the cover athlete for NBA 2K23.
Devin Booker follows in the footsteps of past stars including Luka Doncic, Giannis Antetokounmpo and Stephen Curry. There's no doubt that Booker is a suitable fit with the Phoenix Suns shooting guard putting up 27 points, 5 rebounds, and 5 assists on 47% shooting last season.
Plus, it's clear that Phoenix values him massively as Booker recently accepted a sizable contract extension to stay at the Suns. The franchise's star shooting guard signed a $224 million super max extension making him one of the best paid players in the NBA. Now alongside that deal Devin Booker wll also be receiving a handsome cheque from 2K Games to become the NBA 2K23 cover athlete.
But why should we trust a source that isn't 2K? Charania is a renowned member of the NBA media and has built up a reputation of reliably breaking big stories. Ordinarily he sticks to the league itself but it's possible that he has connections at 2K Games too. After all, 2K and the NBA have been working in cooperation with one another for over two decades.
Other versions of NBA 2K23 cover athlete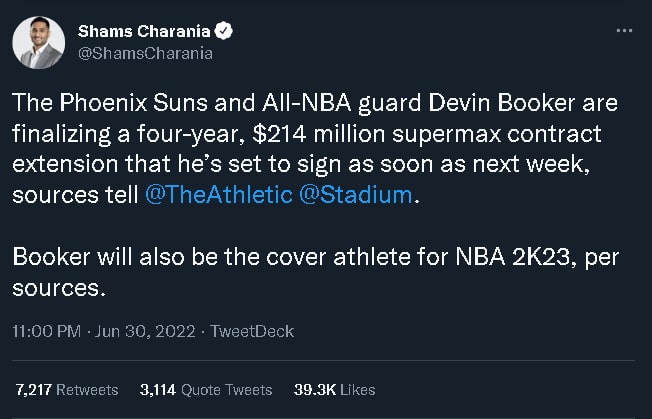 We know that Devin Booker will appear on the game's cover but about other stars. In past years NBA 2K has launched with multiple versions including both a next generation and legendary edition. We don't know if the next generation version will be used this year but a legendary edition seems likely. It'll be interesting to see what all-time great 2K opts to team up with this time around.