Twitch.tv has been a fascinating new form of entertainment.  The idea that watching people playing video games, and not even just the highest level players, has grown into something that rivals Youtube is a concept I never would have thought possible just a few years ago.  Not only has it become an entertainment enterprise all its own, it's spawned some truly unique and wonderfully bizarre events that wouldn't really be possible anywhere else.  In celebration of the recent Twitch Con, these are some of the craziest things to ever be produced by the Twitch community.
Now, I'd like to specify that this is only going to focus on events that streamers actually organized under the regulations of Twitch rather than unintentional and/or potentially illegal happenings.  I'm not going to be talking about swatting or the various times streamers have left the camera running before doing something… Unseemly.  This is a tribute to the wonderfully ludicrous ways that people have found to get the most out Twitch's livestreaming services.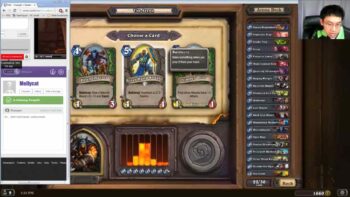 Hearthstone Oligarchy
Hearthstone's Arena mode is tricky as you have to draft a deck from a random selection of cards and try to make the most viable build you can and match it against other players under the same condition.  Certain cards work drastically better in this mode than others and every pick can make or break a match.  So, let's see what happens when one of the best Hearthstone players out there hands full control of the drafting process over to his viewers and has to play with the results.  Popular Hearthstone pro Trump selected viewers of his stream at random and gave them full command over selecting one card for his Arena deck, then took the resulting deck against random opponents for as long as he could before taking three loses.  The good news is that most of his viewers honestly tried to pick the best cards available.  The bad news is that a few couldn't resist being mischievous and sticking him with some of the worst cards possible.  Even those who were honestly trying still weren't always making the best decisions and made suboptimal picks.  The result was one of the worst Arena decks that Trump has ever drafted and a player that averages seven to eight wins per arena run left with only four.  Sadly, he's only done this experiment one other time since and, given the amount of changes that have occurred in Hearthstone since both of those runs, it would be a very different experience today.  You can see the first oligarchy run here and the second here.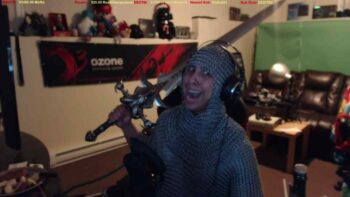 MaximusBlack's 20k Celebration
Sometimes, it's just simple, joyous insanity that is the most enjoyable.  MaximusBlack was originally a Starcraft player that decided to move into streaming League of Legends.  It was clearly a wise choice as he garnered 20,000 viewers on his first day with the game and received over $10,000 in donations from his fans.  The money was enough to pay for his wedding, which was also streamed, and he showed his appreciation to his fans the only way he knew how: singing Tenacious D's "Master Exploder" live on camera while dressed in full chainmail armor, wielding the Frostmourne blade from World of Warcraft, and chugging a bottle of champagne.  Also, his automated subscriber alert made sure to compliment his latest subscribers in a very "special" way the whole way through.  You can check out the footage here, but be warned that there is foul language.  While this celebration may sound mad, rest assured that it's just another day for Twitch.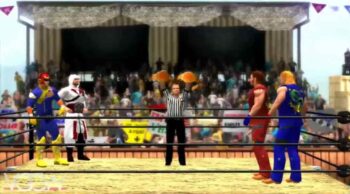 Video Game Championship Wrestling
The VGCW is a CAW League, a fan-made wrestling series made using custom CAWs (Create A Wrestler) created in games like WWE 13 and WWE 2K14.  As you might guess, VGCW mainly focuses on bringing together video game characters of all types, but it also throws in other familiar faces such as Dragon Ball Z's Nappa and Valve co-founder Gabe Newell as prominent figures.  You might not think a show like this being aired on Twitch is too distinct, but the match-ups don't actually involve the showrunners controlling the characters.  Instead, the ingame AI is given full control of the characters and matches are determined purely by the unique stats and moves of the characters, as well as whatever shenanigans the AI feels like pulling at the moment.
The unpredictability of the AI has actually played a major factor in shaping the ongoing narrative, such as with the career of Link from The Legend of Zelda.  Originally, Link was intended to be a major hero for the league as the one destined to defeat his formidable antagonist, Ganondorf.  However, Link's CAW proved to be poorly made due to the showrunner's lack of experience with the system and he consistently kept losing matches.  Ganondorf was eventually defeated, but it was by Bowser of all people.  Link, meanwhile, was eventually forced out of the league and has become a joke within the VGCW while Ganondorf and Bowser still enjoy healthy careers.  Speaking of story within the VGCW, it's not uncommon for cosmic beings to threaten the league and can only be stopped by an atomic piledriver.  Hey, it's not that much crazier than John Cena fighting satanic hillbillies.  Still, I could easily make a list of the craziest things that VGCW has done alone, and I probably will.  If you want to catch up on this series, which is currently on its eleventh season and has three active spin-off shows, you can check out their Youtube channel here.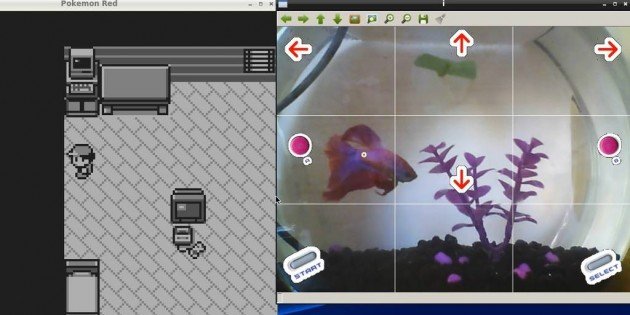 A Fish Playing Pokemon
Yeah, that about sums it up.  Programmers Catherine Moresco and Patrick Facheris used a modified emulator of Pokemon Red, a webcam, and software that reads a fish's movement around his tank as button commands.  Then they put the results up on Twitch for the world to witness live.  The fish's name is Grayson Hopper, by the way.  The stream is available for your viewing pleasure here.  Oh, and someone else did the same thing with two fish facing off in Street Fighter II.  You can see how bizarre that looks here.  Not much to really say about this one, so let's move on.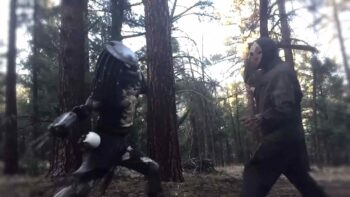 Jason Versus Predator: The Live Movie
Maximilian Dood is most famous for his fighting game tutorial/sketch comedy series Assist Me, which guides newcomers through fighting games and specific playable characters while he and his friends dress in costume and act out an intentionally ridiculous storyline.  When Max heard that his favorite character, the Predator, was joining the roster of Mortal Kombat X, he naturally wanted to pay tribute with his popular series.  However, he wouldn't do so with just a typical episode, but instead create a sort of 'live movie' that interspersed a livestream of Mortal Kombat X with prerecorded segments that recreate and parody the original Predator film.  Max played live and directly interacted and discussed with his viewers while remaining in-character for all of the filmed segments that would seemlessly interrupt the stream.  You can check out the Assist Me episode, with all of the prerecorded bits and an indepth tutorial for playing the Predator in MKX taking the place of the livestreamed segments, here (language and spooky skeleton warning), but it just can't compare with the experience of actually having been there and seeing Max's coy roleplay.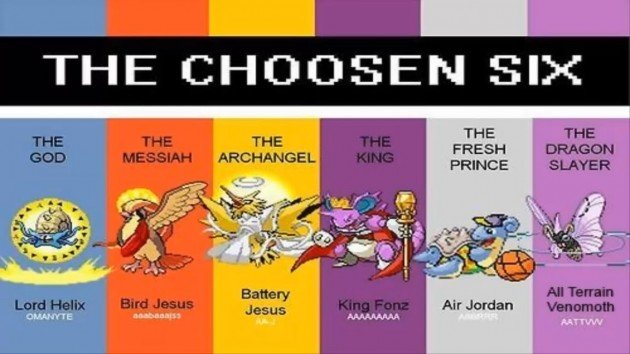 Twitch Plays
I'm pretty sure you all saw this one coming.  Watching games on Twitch is one thing, but who could've expected that we'd be able to play games through it.  For those that haven't heard of Twitch Plays Pokemon, it's a series of one-of-a-kind MMOs playable only via Twitch chat as the entire audience/player base simultaneously controls a single character.  The series began with Twitch Plays Pokemon Red and it quickly exploded into a cult phenomenon.  I mean that literally as a full-on religious movement (jokingly(?)) spawned out of constant attempts to use an unusable item from the inventory.  Yeah, the roleplaying that users had to explain events was beyond ridiculous, and it made the events of the playthrough all the more irresistible.  Of course, the flailing incompetence of our hive-minded shenanigans was a spectacle all its own with the simple act of walking in a straight line being a monumental task.  You can imagine how maddening things got when actual navigation puzzles got involved.  It was so hectic that the game's creator had to overhaul the system mid-playthrough for the game to even be beatable.  Again, Twitch Plays Pokemon is something that could easily fill a list on its own.  Currently, Twitch Plays Pokemon is pitting its chat against itself by choosing sides in the versus mode in Pokemon Battle Revolution.  Oh, and there's another channel on Twitch doing the same thing with Dark Souls.  And they already beat it.  Welcome to the future.
Knowing Twitch, I'm sure I've only scratched the surface of what the site has produced.  There's bound to be dozens of bizarre things that I haven't touched on, some even crazier than the ones I've listed here.  Be sure to leave a comment below with your craziest Twitch moment, though be sure to restrict it to actual planned events.