Whenever it comes to headsets, I will always choose a pair that's made specifically for gaming because of the overall better quality they offer compared to regular headphones. Choosing the best gaming headphone is not the easiest job in the world with so many products available on the market, but we are here to help you make the best choice and share with you the best headsets for gaming in 2016 (and beyond).
In order to be considered great, a gaming headset needs to deliver extremely high quality sound, it must have a very good microphone as well (even though for many this would be optional), it must be comfortable and it must look good because, well… you have to look good at all times! Also, I would personally go for wired gaming headphones instead of wireless ones, because these usually offer better overall sound quality and you don't have to constantly charge them. Of course, if you think that you will use them outside as well (for listening to music, for example), the wireless ones might be easier to use.
Don't worry, though! We have both wired gaming headphones below, as well as wireless 'phones on our list below, so you're certainly covered AND whatever you choose, you will surely be satisfied with the results. Now let's stop talking and let's check out below the best gaming headsets for PC gamers for 2016!
Sades SA-710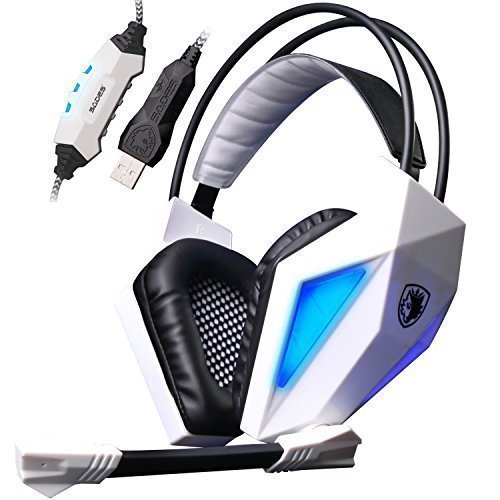 When it comes to a combination of awesome design and low price, you can't beat the Sades SA-710 gaming headsets. And the lower price doesn't come with lower quality! The ear pad and head pad are both soft and comfortable to wear, while the beam pad is segmented for perfect adjustment of the headphones. But its technical features are surprisingly good as well: it comes with a virtual 7.1 surround technology, as well as noise cancelling capabilities, resulting in extremely clear and realistic sounds. Surprisingly lightweight, these headphones are cheap and amazing. Add to all these bonuses the fact that the headphones light up with a nice blue color (the only downside being that you can't turn it off… but why would you like to do that?)
If you're on a budget, but you still need a great pair of gaming headsets, check them out (click here for UK/Europe).
Sades SA-708

I promise that I haven't been bribed by Sades to promote their products! It's just that their headphones are extremely high quality and come at incredible prices. This one for example comes at an incredible deal at the moment of writing (pricing might change though) and sells at a discount of $70. Now that's a hot deal and I had to write about these headphones, which also have an amazing design and awesome features. It has a soft pu leather cushion head-pad and ear-pad for comfortable wearing even for hours and the microphone hides well inside the left headphone, which is also a bonus. Although this one doesn't have the 7.1 surround sound the model above has, it still delivers great sound quality and especially amazing bass. It goes really loud as well, but we all know that sound clarity is important, and that's exactly what you get from this model. It is lightweight, it feels nice when you wear it and it has the Sades leds to make you look as cool as possible. For this price, you won't find anything better! Click here to check them out (or click here for the UK/Europe).
Logitech G430

I must admit that this is my favorite wired gaming headset and I had to share it with you! Logitech managed to build an awesome gaming headset here, one that's built for comfort and performance. It's Dolby 7.1 surround sound offers extremely high quality, crystal clear sounds, while the microphone has noise cancelling capabilities for yelling perfect instructions or swear words (depending on the case). Light, slim and balanced, the G430 model comes with comfortable swivel earcups (thy swivel up to 90 degrees) which makes personalization and comfort a priority. They are also great to wear for long gaming sessions, reducing heat and therefore sweat and discomfort. Some really good gaming headphones you need to check out! So click here to find out more about them and buy them (or click here for the UK/Europe).
HyperX Cloud 2

Kingston's HyperX Cloud is probably one of the best known and most appreciated gaming headsets in the world, so it's no surprise to see that the company decided to give it an upgrade and make it even better. The good news is that they succeeded! The Cloud 2 has 7.1 surround sound and noise cancelling microphone. It is also soft and easy to wear, as well as comfortable: their dedicated technology for the earpads delivers memory foam for a perfect fit. You will indeed love your gaming sessions using these headphones which are a big step forward compared to the previous HyperX Cloud model. It's also TeamSpeak Certified and voice chat optimised, so we really have the real deal here. Click here to check them out (or click here for the UK/Europe).
Ear Force Stealth (wireless)

If you prefer Wireless headphones, I have a recommendation for you as well: the Ear Force Stealth 450 by Turtle Beach. They offer everything our previous headsets offer, like 7.1 Surround capabilities, crystal clear sound and some booming, high performance speakers (50mm Neodymium speakers which are indeed all you can wish for). Everything without the extra wires, if that matters to you! It also has an interesting technology that allows to hear your own voice in the headsets, so you know exactly how loud you should go. They are highly adjustable and extremely comfortable, so you won't have any problems with that either. Turtle Beach also promises up to 15 hours of interrupted gameplay using their wireless headphones, so that should be enough for even the longer gaming sessions. Again, I have to say, if you want wireless gaming headphones, these are your best choice! You can buy them here (or click here for the UK/Europe).
These are our recommendations, all very high quality gaming headphones for PC gamers. Don't forget to share this article so that your friends can find out about them as well!