Publisher Dear Villagers has today revealed its latest work, Astria Ascending. Ascending is a JRPG made in collaboration with several industry veterans. Amongst those includes developers who have worked on Final Fantasy and Nier: Automata. It will launch in 2021 on PC, Switch, PlayStation 5, PlayStation 4, Xbox Series X/S, and Xbox One.
It will also feature on Microsoft's signature Game Pass service at launch. This means that you can check it out on Xbox consoles before paying the full price. It is currently unknown if it will be making its way onto Game Pass for PC too.
A gorgeous hand-drawn JRPG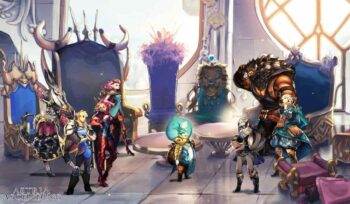 Astria Ascending is a gorgeous title that features some of the best art the industry has to offer. Set in a world of chaos, players control various Demigods who are aiming to save the world. A mysterious force is putting their world at risk at it is up to these eight heroes to stop it.
Each of the eight heroes has their own unique story and narrative. You'll have to cross give 5 cities, 25 dungeons, and 30 hours of gameplay in order to conquer Astria Ascending's story. A 100% completion run is expected to take closer to 50 hours for most players.
Outside of its main story, Astria Ascending also features various side quests and mini-games. One of which is an original fantasy-themed token game not playable anywhere else. The majority of gameplay is turn based with unsurprising similarities with the Final Fantasy series. Developer Artisan Studios is best known for its work on Super Neptunia RPG and specializes in 2D RPG design.
Dear Villagers' head of publishing Guilaurme Jamet described the development process as "a delight." Furthermore, Jamet called it "an honor," to work alongside so many industry veterans. It should be interesting to see what Dear Villagers and Artisan Studios can come up with.