Scrolls
The remarkable single player series of Elder Scrolls is finally reaching and connecting players all over the world through its MMO structure. In the Elder Scrolls Online (TESO), players will finally be able to experience the true essence of massive online wars. Player-versus-player features are one of the main attractions of TESO, although expectations can easily be crushed. The on-going TESO beta reveals that PvP is not only casual; it's also uncompetitive and unchallenging. With alliance wars as the only option to face human enemies, TESO's PvP seems to be nothing but a huge letdown. It's true that we're in the age of masses but when it comes to MMOs, is there any hope for PvP, when the only option is massive wars without any type of regulation or balancing?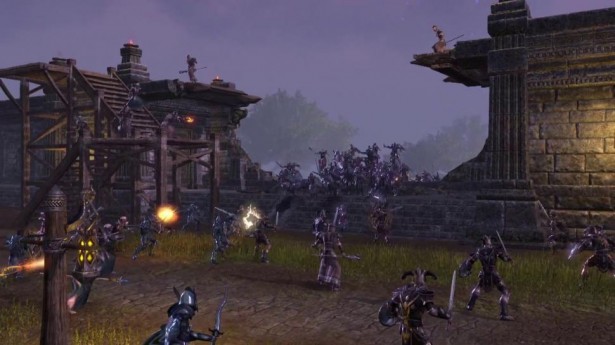 Cyrodiil: The PvP Core of TESO
In TESO there's only one form of PvP and it all happens in one single map, Cyrodiil. This means that players have no other options when it comes to fight other human players. Battlegrounds, arenas, frontlines… they're all inexistent in TESO. Cyrodiil features an alliance war system (AvAvA), where the three factions in game battle for glory, influence and territory. This map seems to have a vast history background and it's as huge as it used to be in the Elder Scrolls IV: Oblivion. But that's not everything. Cyrodiil also offers innumerous quests, dark anchors, exploration points and dungeons. So, in the end this is not an exclusive PvP zone, it's a hybrid map with multiple options for both, PvE and PvP players.
Alliance Wars: The Age of the Masses
Large scale battles are quite usual in current-gen MMOs. But being common doesn't stand for being good or superior. It's indeed a feature MMO players tend to enjoy due to its casual particularity. The age of the masses goes where it pleases and quantity wins over quality, no matter what. TESO's alliance wars will follow this principle of masses – without much effort or skill, large amounts of players can simply take over objectives and feel happy about it. In this type of PvP structure players' performance and individual skills are pretty much disregarded, since they can hardly make a difference in the middle of so many competitors. Eventually, the top geared players will be able to easily crush weaker opponents but this doesn't involve skill, strategy or war techniques once again.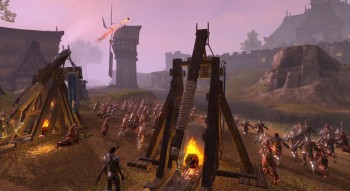 Competitive: Where's the Fair-Play?  
Fair-play is a rare mechanic in large scale battle systems, which means competitive and balanced fights are unlikely to happen in TESO. But it gets worse. Dominance over Cyrodill's territories will provide bonuses to all faction members of a certain alliance. So, even if you manage to find even numbers to fight, your enemies will either have superior or inferior attributes compared to your squad. Amusing right? Furthermore, if one faction gets too strong, the other two can join forces to take it down – the enemy of my enemy is my friend, I suppose? I wonder what the Elder Scrolls lore has to say about this.
Casual PvP Mechanics: Zerging
How can you win objectives in Cyrodiil? You surely need tactics but they're all so casual and basic that I'd rather call it common sense than war strategy. Leaders are still required but all they have to do is gathering players together and distribute them among close objectives, other than that, it's pretty much about numbers, levels and gear. The main strategy is the obvious – gang the enemy and zerg the hell out of them. A scattered opponent is a dead opponent, no matter how strong and brave they are.
Back to my original question, I don't think there's any hope for PvP in TESO. Unless ZeniMax develops other forms of PvP, this single method will only work for casual devotees. Anyone who enjoys PvP, challenging group fights and war tactics will quickly move on to another MMO simply because Cyrodiil's structure doesn't proportionate any means for fair-play and competitive PvP. It's all about player numbers and conquering objectives for extra faction bonuses. It surely can be fun at very peculiar situations but if you think rationally, there's nothing fun about winning when you have all the advantages at your side.