Games across the industry have begun running special deals to celebrate the holiday season. Amongst these is Call of Duty: MW2, the latest instalment in Activision's hit first person shooter franchise. MW2 players can now purchase the Dune Stalker Pro Pack and earn double CoD Points in the process.
The Dune Stalker Pack has six items available. It costs $10, € 10, £8.40, and C$13.50 respectively which is standard for a new bundle. This includes an FSS Hurricane variant, a MCPR-300 variant, a charm, emblem, and an APC skin. Truth be told most of the items in this bundle aren't all that interesting but there is a standout inclusion.
After purchasing this bundle players will immediately earn 2200 CoD Points. Given its pricing this is a fantastic deal that players won't want to miss out on. For context, purchasing 2200 CoD points on its own would usually cost around £16 or $20. Yet the Dune Stalker Pack is offering MW2 players that plus more for around half the price.
Unlike most bundles in MW2 this cannot be purchased with CoD Points. It can only be purchased using real money. This makes sense given the whole point of the bundle is that it offers great value CoD Points. Some players may find this disappointing but it's a generous enough deal by itself. Especially as you can flip those extra CoD Points after to buy another bundle that you want.
The Christmas spirit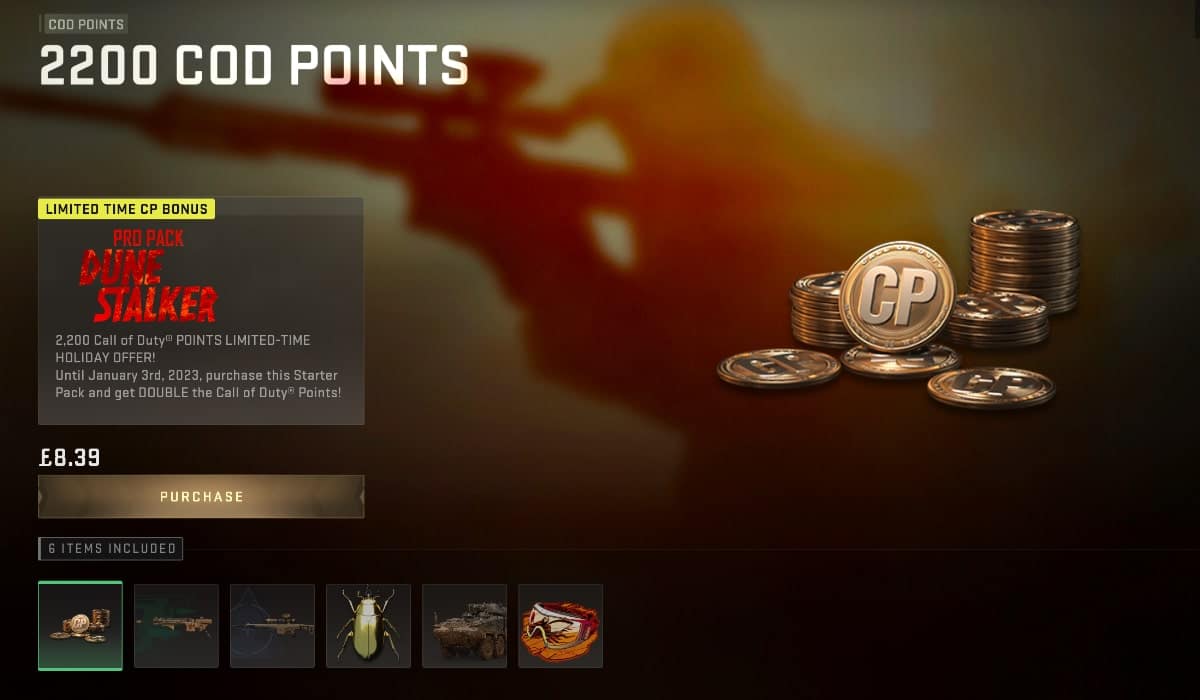 Call of Duty is embracing the Christmas Spirit by offering several holiday themed bundles. There's both the Merry Mayhem bundle for 2200 CoD Points plus the Tracer Pack: Klaus Operator Bundle for 2400 CoD Points. You can spend the CoD Points earned through the Dune Stalker Pack to purchase these fun MW2 bundles. Klaus' pack even features unique Christmas-themed tracers that shoot coal and snow respectively.