April Fools Day
Riot Games has launched a very fierce April Fools Day prank featuring a new game mode, Ultra Rapid Fire, followed by hilarious patch notes. Players' response through social media indicate that this measure is nothing but a tremendous success. In fact, there's even petitions to keep this mode in-game and to include it on the upcoming All Stars tournament.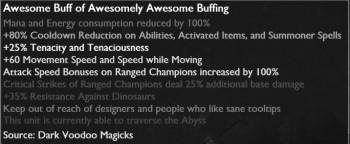 This mode is a casual and fun way to experience Summoner's Rift, since players get a bunch of unique bonuses regarding combat mechanics – ability's cool down reduction is set to 80%, mana and energy costs have been abolished and ranged champions have now double attack speed. But there's even more bonuses, as you can see in the in-game Buff of Awesomely Awesome Buffing. To balance and make this mode playable, Riot Games was forced to make several individual adjustments such as Teemo's mushrooms, limited to twenty at a time. Check the official trailer: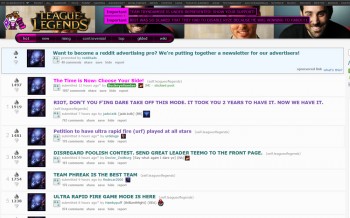 League of Legends' official Facebook and Twitter pages are flooded with positive feedback regarding this unexpected surprise. In Reddit, things go beyond simple comments, as players demand the inclusion of this mode in the permanent gameplay options. Furthermore, Riot has launched a fun contest challenging players to choose between Team Ryze and Team Tryndamere, both symbolized by the company's co-founders, Brandon Beck and Marc Merrill respectively. This week's free champions are only two, therefore the dilema – Ryze of Tryndamere?