What a great news! Wait, what is GOG you ask? GOG, a subsidiary of CD Projekt, is a software distribution platform serving DRM-free video games and movies. They have a kit if games ranging from critically acclaimed indie games to big and awesome triple-A video games. Guess what, their prizes range from as low as $5 to $10 for old games and for newer games, they can range from $5 to $30. You can get The Witcher 3: Wild Hunt for only $30! Can the prices go any lower? Oh yes! Enter, Spring Sale.
All Hail the Spring Sale (March 6 – 12, 2017)!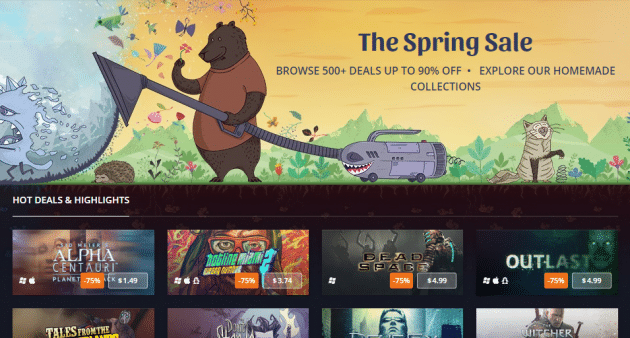 If you're wondering which games do they have in store for us this Spring Sale, let me give you a sneak peek. For the indie game lovers out there, here are some of the indies they have for Spring Sale:
Brothers: A Tale of Two Sons – $2.24
Undertale – $4.99
World of Goo – $2.49
Crypt of the Necrodancer – $3.74
Hotline Miami 2: Wrong Number – $3.74
Braid – $3.74
Bastion – $3.74
Invisible Inc. – $6.66
If you are not an indie game lover and more of a triple-A kind of a gamer, these games might be right in your alley:
Mirror's Edge – $4.99
Metro 2033 Redux – $4.99
The Witcher 3: Wild Hunt (GOTY) – $29.99
Deus Ex GOTY Edition – $2.99
Dragon Age: Origins Enhanced Edition – $4.99
Dead Space – $4.99
Tales from the Borderlands – $6.24
…And a lot more!
Personally, I'm planning to buy Divinity: Original Sin, Invisible Inc., World of Goo, Bastion – yes, I know. I'm more of an indie-loving guy – then, for the triple-A games, Witcher 2 and 3, and I'm still thinking about getting Medal of Honor or Hitman. Definitely Hitman. There are also some story-rich games like Gemini Rue, Alan Wake, The Vanishing of Ethan Carter, and a lot more.
Want to link your Steam Library?
Want to connect your Steam library with GOG? They got you covered with GOG Connect. With this tool, you can permanently import your games in Steam to your GOG library. But, a little heads up, my dear gamers. They only have a limited number of eligible games and are for a limited time only. This is because not all developers and publishers agree with the whole DRM-free idea.
I believe that this is a great opportunity to try out games that we weren't able to play in the past. How about you guys? Which interesting games are you planning to but? We are curious and are eager to hear from you, guys. Comment your games down below and let's have a fun conversation.