Makers of high-end collectibles First4Figures have announced their latest addition to their line-up. Straight from planet Popstar Meta Knight the mysterious leader of the "Meta-Knights" finally gets his chance. Flying into action on the Battleship Halberd deck, Meta Knight readies his trustee Sword, Galaxia in preparation to take on any unwanted visitors through a blaze of flames. As Kirby's rival Meta Knight is one of the most popular characters in the series and has been anticipated by many for some time.
Highly limited to 500 pieces the exclusive version ($259.99) comes with LED's that make the flames flicker and his eyes light up to add "dramatic effect". The regular version ($239.99) on the other hand is limited to 1000 pieces worldwide. The figure comes in deluxe full color packaging with moulded foam interiors. The packaging itself is normally just as detailed as the product with unique artwork added for each individual statue. Due for release in Q2 2016, Meta Knight is now available for pre-order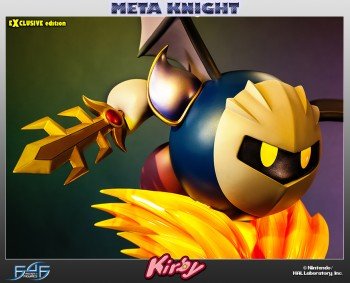 First arriving on the NES in Kirby's Adventure way back in 1993 (The year I was born frighteningly). The masked knight then went on to make more than 15 appearances across multiple consoles. Created by Masahiro Sakurai, Meta Knight was then added to roster of Super Smash Bros Brawl in 2008 before returning for the 3DS and Wii U versions. Hopefully the figure will not be as broken as his debut in Super Smash Bros.
Cast in high quality polystone resin the statue stands at 16 inches. The figure has been hand-painted to capture all the detail necessary to fulfil all of his features. The second statue in the Kirby collection will fit perfectly in size next to their previously released Sword Kirby. If you have authenticated your Kirby figure then you are entitled to receive the same number authenticity card for Meta Knight and any other future releases to this series.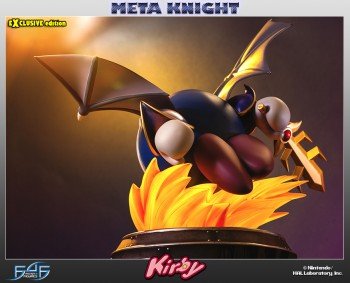 First4Figures are a United Kingdom based company that produce high-quality statues of gaming giants from The Legend of Zelda to Sonic the Hedgehog. They even have a Shenmue statue! I'm holding out for a Banjo Kazooie one personally.
What do you think of the Meta Knight figure? Will you be purchasing one? Leave us a comment below.