A new trailer of Dragon Age Inquisition launched in the near past. Where the full-cast of the game is featured, including companion and support character. The numbers are not new but the revelations are a huge surprise. There are several unknown faces and many names to be confirmed. Nine companions and three support characters are the scenarios displayed by the Inquisition's squad image. However, it's not totally clear who will be a companion or a supportive character. Meet the full list of Inquisition companions and supportive characters unveiled to date.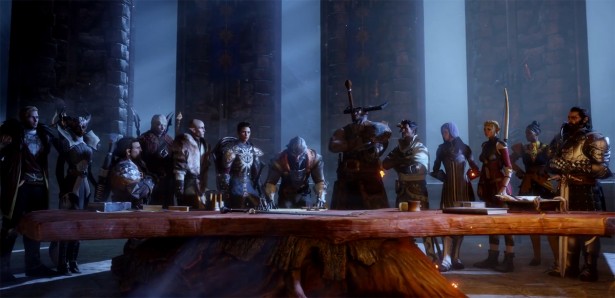 Dragon Age: Companions (Confirmed and Presumed)
Cassandra Pentaghast (Right Hand of the Divine) – Confirmed + Romance Option Confirmed
Cole (Human Rogue Gifted with Transcendental Powers) – Unconfirmed/Supposed Character from DA: Asunder
Dorian Pavus (Tevinter Magister) – Unconfirmed
Iron Bull (Qunari Mercenary) – Confirmed
Gregor (Grey Warden Warrior) – Unconfirmed/Could Be Someone Else
Sera (Elven Archer) – Confirmed
Solas (Elven Mage) – Unconfirmed
Varric Tethras (Handsome Dwarf) – Confirmed
Vivienne (First Enchanter to the Imperial Court of Orlais)- Confirmed
Dragon Age: Supportive Character (Confirmed and Presumed)
Alistair (King of Ferelden or Grey Warden Captain) – Confirmed
Cullen (Knight-Captain of Kirkwall's Templar Order) – Unconfirmed/Could be a Companion + Romance Option Confirmed
Leliana (Left Hand of the Divine) – Confirmed
Morrigan (Arcane Advisor to Empress Celene) – Confirmed
Scribe Girl (Intellectual and Trade Affairs) – Unconfirmed/Unknown Name and Role
Thamond (Captain of the Inquisition and a commanding officer in Crestwood) – Confirmed
For further details about each character, Companion and Support Character, and their confirmations, you can check the VgamerZ Inquisition Squad article. Dragon Age Inquisition will launch on October 7th in North America and October 10th in Europe for PC, PlayStation 3, PlayStation 4, Xbox 360, and Xbox One including all these interesting characters, companion, and support character.
On a question to Mark Darrah,
"What has creating this new protagonist, the inquisitor, given you the opportunity to do or change that you couldn't have with the warden, or with Hawke, or with a previous Dragon Age lead?

Replied: One of the reasons that we've decided to do that in the Dragon Age series is that it lets us explore a lot more themes. Hawke's story, it's not done, but the most important event of his life is essentially what's happening in Dragon Age 2. With the warden from Dragon Age: Origins he carries a lot of very divergent baggage. Anything from he could be dead to maybe there's a kid in the picture, maybe he's actually ruling Ferelden with Anora."