Which Of Our Favorite Heroes Will Find Themselves in Marvel vs. Capcom – Infinite?
Who didn't at some point want to be a superhero? Think about it– you get an awesome ability like super-strength, you most undoubtedly get a sweet signature super suit, and the best part is that iconic superhero name that your fans will shout when they need you most. Well…as much as we'd like to hope someday our dream of superhero stardom will happen, the closest thing for now that a nice consolation prize are movies and video games. 2017 marks the return of the fan favorite series of games from Marvel and Capcom in Marvel vs. Capcom: Infinite.
 Exclusively for the next-gen consoles, as well as PC, you're given the chance to battle with and against some of the best superhero and villains in the Marvel and Capcom universes. With its late 2017 release date, the entire list of characters has yet to be named. Leaving much speculation as to which characters will fill the slots. Already confirmed characters, from Marvel you have Captain Marvel, Iron Man, & Captain America. From Capcom, you have Ryu, Mega Man X, & Morrigan.
So, as you can see there are a lot of openings for the cast.  To make things just a bit more fun, here are 10 characters that need to be in the Marvel vs. Capcom: Infinite.
Quake (Marvel)
Made even more popular by Chloe Bennett's portrayal of Daisy Johnson (Quake) in the ABC hit show, Agents of Shield, Quake would make an excellent break from the over-popularized heroes like Hulk, and Captain America. Because of her ability to generate seismic activities, like a focused earthquake, Quake is seriously more powerful than she's given credit for.
Imagine her blocking with such force that the waves attack back into her attacker. That's what you'd expect if she gets casted. You can't tell me her offense and defense isn't something you like use to your advantage in this game.
Frank West (Capcom)

Fans of the super addicting videogame series Dead Rising know this character all too well. The photojournalist turned zombie hunter would add a much needed "badass" element. You know, in case there probably wasn't enough already.
He's incredible strong being a former wrestler. He's the loose cannon that we all love to hate. Finally, he'll bring his baseball bat with him and be sure to document his entire beating of his opponent. Check the papers.
Dante (Capcom)

Speaking of badasses, none are more prevalent for Capcom then Dante from the Devil May Cry video game. I mean, just look at him. He's unbelievably cocky, I'm sure if he was real he's tell you himself too. He fits the combat heavy action game like no other.
Dante is a master when it comes to weapons. Either guns to sword wielding. Also, he has demonic abilities thanks to his father's lineage of ancient demons. Dante's has sliced-and-diced demons like they were nothing. He's confidence will not be an issue to win any battle, including in this game.
Hellstorm (Marvel)

The Son of Satan has always been a questionable character for Marvel. Simply because from his creation in the comic Ghost Rider (1973), Daimon Hellstrom was for all sakes a good guy; Despite being part demon (spoilers: his father is Mephisto). However, he's flipped sides many times to fit his own desires.
Hellstorm, thanks to his dark soul, Trident of Hell, and his epic carriage of hell horses he uses to travel, makes for an exciting NEW character we can all enjoy. Hellstorm is immensely powerful in his realm. In addition, he can do any type of magic (like flight, and time travel). Also, he can wield fire with ease. Most of all, his Hell Fire move can cripple the life force of any enemy. Sounds like a great choice to me!
Cable (Marvel)

The son of Cyclops (Scott Summers), was sent 2,000 years into the future to be protected from harm. He returned as a techno-organic warrior (infected by tech virus) who mastered his powers of telekinesis and telepathy. Like that of his mother, a clone of Jean Grey.
He packs some serious power, especially in his future weapons. Like his gun for example.  Cable has fought Wolverine to a draw. In addition, he had beaten Iron Man, Red Hulk, and Falcon, all while being inches from death from his virus. Seems like power and skill are of no small value here. Cable can send this game into the future with an appearance.
Blanka (Capcom)

Shout out to all the 90's kiddies here. His first appearance in 1991's Street Fight II (Capcom), launched him into fans hearts. Easily a favorite of anyone who's a fan of the Street Fighter classics.
Blanka is seriously one of the craziest and wildest characters around. He can be chalked up in one word, INSANE. However, he's not as technically sound as fighters like Ryu. Blanka relies heavily on brute instincts. Therefore, he's not shy about uncontrolled attacks out of left field. Oh, did I forget to mention he can also emit huge amounts of electricity? Of course, not naturally but still is quite the skill. Having him involved in this game would lead to some insane showdowns. Capcom needs to bring him back.
Moon Knight (Marvel)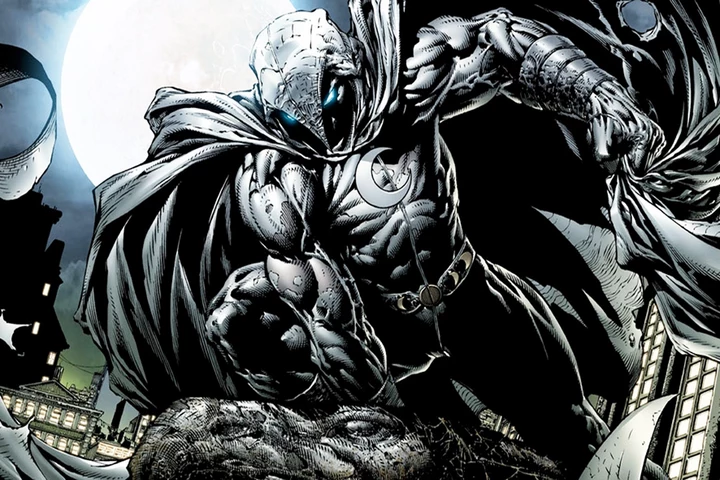 Stumbling upon an archeologic dig, Spector was inches from death where his life gets restored if he becomes the avatar for the god Khonshu. After that, he had dawned Khonshu's silver clock and became Moon Knight. His powers (super strength, durability, speed) are depended on the intensity of the moon phases
Moon Knight, Marc Spector, has the kind of background made for fighting games. He's been a former Heavyweight Boxer (200+ lbs. division), a United States Marine, and even a mercenary after his service. Most noteworthy, he's a master at hand-to-hand combat fighting. Also, he's been said to be even more athletic than most Olympians. Let's hope Marvel gives the Moon Knight a much overdue appearance.
Chun-Li (Capcom)

You're looking at the most popular female character in all of video game history. Yes, even more popular than Lara Croft, sorry. Since 1991 Chun-Li has been using her lighting fast fighting skills to put all other contenders to shame.
She can literally deliver kick after kick with lighting speed and precision that you will never even know what hit you. Also, she can produce some serious energy blasts that can send you down for the count. So, I think it's a safe bet that she makes an appearance in this game.
Asura (Capcom)

No matter what the story is in video games, it's hard to ever hate a great revenge story. Asura from Asuaras Wrath, is a character that is enraged with anger and thirst for revenge. He's not one to let things go. He doesn't use his words; he much prefers to use his fighting skills to smite everyone who wrongs him.
Strong enough to crack the earth when he punches a foe, and beat a God that stands bigger than Earth. Almost sounds unstoppable, doesn't it? Consequently, he's only made a single appearance in Capcom. Probably not ideal for a game like this, but he could bring a nice new element of rage to a game packed with action.
Dr. Doom (Marvel)

There's a reason why Dr. Doom is one of the greatest villains of all time. He's so immensely powerful that he just can't get enough. A master at all things science, sorcery, and hand to hand combat. Dr. Doom is also packed with gadgets that can even make Batman blush.
Dr. Doom has all the tools needed to be a beast of a competitor in this fighting game. His smarts, powers, and gadgets can emit incredible damage. As a result, Dr. Doom makes an action-packed fight with anyone. All these characters can be doomed if the Doctor is selected.
I'd love to see these characters get their chance to shine in this upcoming game. They all make a great case for themselves and seeing some new and old faces will give the game a much-needed jumpstart into expanding the popularity of both universes. Most of all, share your thoughts on my selections. Let me know who you'd choose instead.