Tom Clancy's The Division is currently under development and Ubisoft has been unveiling multiple details about the programing engine, Snowdrop. According to Ubisoft, this engine has been "built from the ground up to create truly next-gen AAA games." Very little is known about this upcoming third-person tactical shooter game, however it's known that it will have a hybrid system made of role-playing and action features. Next-gen offers unparalleled possibilities and freedom seems to be the main key towards creativity, as Ubisoft stated today:
@TheDivisionGame: The Snowdrop engine gives content creators a total freedom to experiment, prototype and unleash their creativity.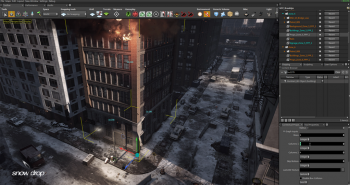 Furthermore, Rodrigo Cortes, Brand Art Director at Massive Entertainment, has stated that Snowdrop is designed to "do things better, not bigger." To achieve a higher level of game development, in a period of great competitive edge between new AAA games, Ubisoft decided to rely on freedom rather than brute force, as Cortes explained:
Triple-A game development projects are growing in scope exponentially, so we wanted to be smart and not rely on brute force. We needed an engine that would support how we work in the studio, promote creativity, and allow the freedom to experiment and prototype.
Comments
comments