A founding member of the original Overwatch strike team and mother to Fareeha "Pharah" Amari, Ana Amari has been revealed as the first new hero to be added to Blizzard's hit first-person shooter Overwatch following its release.  Once the top sniper in the Egyptian military, Ana was believed dead after an encounter with Talon operative Widowmaker.  Despite losing her right eye in the fight, she is prepared to step back into active duty at 60 years young.
Ana is a support sniper whose rifle can heal teammates or deal poison damage to enemies depending on who her shots land on.  She's also armed with a sleep dart that can knock a single opponent unconscious, but any damage dealt to them will immediately wake them.  It can certainly be useful in conjunction with a high-damage ally to assassinate enemies, but it can also be handy for cancelling certain ultimate abilities, such as McCree's and Reaper's.  Next is a biotic grenade that supplements healing for teammates and completely blocks healing for enemies.  Finally, her ultimate ability is Nano Boost which temporarily buffs the attack, defense, and movement speed of a single ally.  You can see all of her abilities in action in the official gameplay reveal trailer.
Ana is available play now in the newly-launched, PC-only Public Test Region, which is the beta-testing segment, and is planned to be added to the full game very soon.  The PTR is also experimenting with various balance changes, such as making self-healing abilities charge ultimates and adjusting the ultimate charging rate for all heroes that will apply to.  The new patch will also buff D.Va, Zenyatta, and McCree.  You can read the full patch notes here.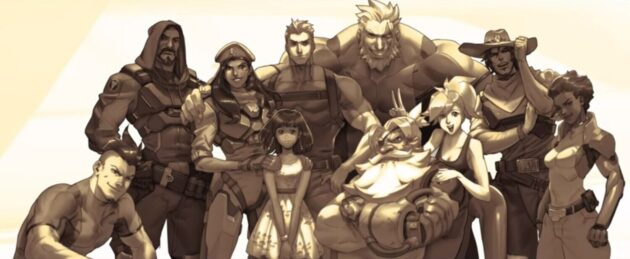 The new story trailer (featured above) also hints at two more early members of the strike team on the far left and right that could potentially join the playable cast in the future.  We have no solid leads on who either of these characters might be, but it's possible that they are Liao and Sombra who have been hinted at multiple times in the past.  Given that Blizzard has gone out of their way to include these characters in the group shot, it's a safe bet that they have some plans for these characters.
What are your thoughts on Ana's inclusion to the roster?  What types of heroes do you still want to see added to Overwatch?  Leave a comment below and let us know what you think.
Comments
comments