Super Smash
The 3DS, as we know, had a fairly humble beginning. Words like 'disastrous' and 'reputation-mangling' could be used, and there were many nervous Asian businessmen in Kyoto for a while there. What with the price, and rumours that the 3D super smash effect was made by the devil himself and will melt your eyeballs in their sockets, things were looking bad.
Three years later, the console is almost unrecognisable. After its price cut and that Ambassador business, its fortunes improved. Today, the enterprising handheld sports a generous crop of great titles, and is doing really rather well for itself.
And now another sure system seller joins the ranks: Super Smash Bros. 3DS.
For many of us, the fact that this is a portable Smash installment is all we need to know. That's an exciting concept, right there. This is the first of the dual 3DS/Wii U releases, with the home console equivalent hitting this holiday season. But this is no stunted port.
Veteran Smashers know what an event a new series release is. This is hundreds of hours of ridiculous entertainment, and what many consider to be the greatest party game ever devised. It's a fighting game with a brilliant Nintendo twist, and a heaping helping of fanservice thrown in. The hype train had been steaming alone the rails for months, and this was perhaps the most eagerly anticipated installment yet.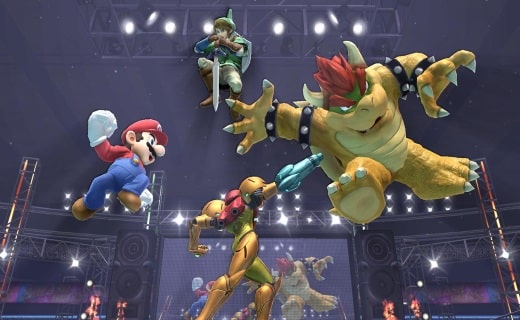 That's an absurd amount of pressure for a handheld to bear, and it does so with aplomb. As I've said, you'd probably expect all kinds of concessions to make this work. But there simply haven't been any.
The full roster of almost fifty characters are here, and some eccentric new choices there are too. Just in case they're still considered spoilers at this point, I shan't mention them, except to say –in some cases– what the hell? The 3DS version has its own exclusive stages, a Tekken Force-esque mode that won't appear in the Wii U edition, and a different crop of collectibles.
The game may not be as feature-packed as its predecessor, Brawl, but that's not an issue. Some of the extraneous additions from the Wii game have been removed simply because… they sucked. Those 50 second demos of the original Zelda or F-Zero were a nice little touch, for instance, but nothing we'll really miss. In this way, we're able to focus on the core experience, which is what we love and what we're here for after all.
Smash Bros. 3DS truly is the full Smash experience in miniature. There's an extensive list of trophies to collect, some new minigames, and the return of the usual series favourites. Multi Man Melee and Home Run Contest are here. There are far too many challenges to beat, for those achievement addicts. The online modes are rather simple but perfectly formed, with separate modes for competitive play (an item-free, Final Destination type affair) and the crazier side of Smash.
In short, this probably would be the biggest release on the console so far, in all kinds of ways. It's a huge package, certainly, yet it's also simply the most significant game the handheld has seen to date. Not everybody is a fan of Smash Bros, of course, but unless you're really averse this is nothing less than an essential purchase.