Laptops
Battlefield 1 aka Battlefield 2016 is the game that is expected to deliver a fatal blow to Call of Duty this year. laptops It seems that Dice and EA have finally listened to what the gamers want and decided to go back in time instead of forward into the future and deliver a classic FPS that everybody was waiting for. As a result, Battlefield 1 is probably one of the most hyped games of the year and I am sure you want to play it. If you want to play Battlefield 1 on a laptop, we've got you covered: we have here some recommendations that will show you that you can indeed play the game on a laptop and get as much as possible out of it without having to spend a fortune.
So let's not waste any time and let's check out below the best laptops for Battlefield 1, with the mention that we're trying to list something for each budget below and we won't hit you with a list of laptops that cost over $2,000: we know that those can run the game, but what if we can find something much cheaper? Well, we did, so check out below the recommended laptops to play Battlefield 1 on!
Acer Nitro VN7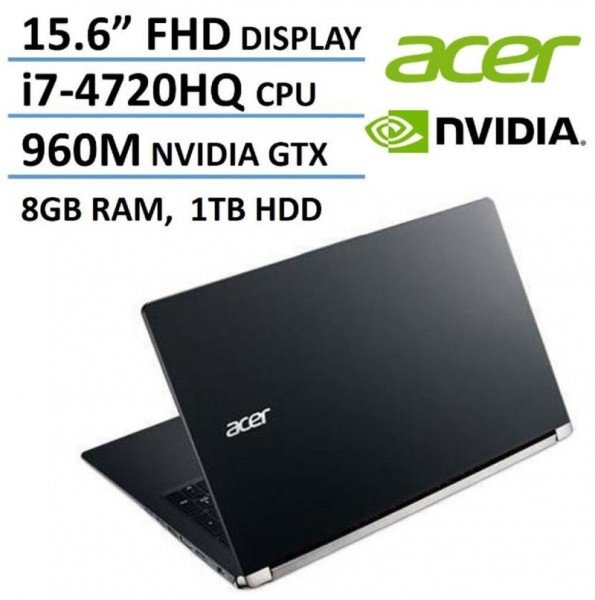 If you're on a tight budget, but you still can't say no to some WWI action, then the Acer Nitro VN7 is a great choice for you! It has well over the minimum system requirements for the game, meaning that you'll still be able to enjoy it at a good quality (even though not with every setting maxed out) – at least you get to play the game and that's all that matters! The laptop itself has a good overall configuration, running on a modern Intel Quad-Core i7-4720HQ processor, 8GB of RAM and the NVIDIA GeForce GTX 960M Graphics card with 2GB of RAM. It also has a backlit keyboard, which is nice addition to any gaming laptop.
Probably the biggest downside here is the smaller size of the screen – we're talking about a 15.6-inch Full HD monitor, but you have to sacrifice size in order to get this performance at such a low price. So if you think that a couple of inches down are worth saving the money, go for this laptop as it will deliver very good performance not only for Battlefield 1, but all or at least most current generation games out there!
Toshiba S55

We're keeping prices low, but we still have to stick to a 15.6-inch monitor, which is not ideal for gaming, but it's better than not being able to game at all, right? The S55 has some slightly better stats than the Acer model recommended above, running on an Intel i7-6700HQ processor with 8GB of RAM. Even though it has a NVIDIA GTX 950M Video card, it comes with 4GB of RAM, so the performance is there. You also get 512GB of SSD storage for some added speed, as well as the Backlit Keyboard which makes a good addition to the overall thing. I'd say that this one is even better than the Acer Nitro in terms of specs and it should still be, normally available for under $1,000. Now that's a good deal!
Clevo Prostar N170RD1

It's time to increase the size of the screen to a decent 17.3-inch! I know that a Prostar laptop doesn't have the brand bang that other computers have, but when you are on a tight budget, this shouldn't matter too much especially since we're still talking about a very high quality product here. The N170RD1 model, for example, not only has a bigger screen, but is also powered by an Intel Core i7-6700HQ processor, has 8GB of RAM and the NVIDIA GeForce GTX 960M card with 2GB GDDR5. In other words, it's well above the minimum system requirements to run Battlefield 1 and you should expect some more than decent performances from it, all on a larger screen that offers 920 x 1080 Full HD resolution. At this price, it can't get any better!
ASUS ROG GL752VW-DH74

A good gaming laptop created by the folks at ASUS, the ROG GL752VW-DH74 isn't the latest in terms of system specifications, but it still offers good quality of the price. It's powered by the 6th generation Intel Core i7-6700HQ processor running at 2.6GHz and comes with 16GB of RAM. It also has a good graphics card, the Discrete GPU GeForce GTX 960M and a large display at 17.3-inch, offering full HD (1920 by 1080) resolutions. It has both a 1TB HDD and a 128GB SSD, plus a really good design that all gamers would love. A very good product overall at an even better price!
MSI GE72 Apache Pro-003

This is a really good gaming laptop, one that proves that you don't have to spend a fortune for something good! Running on the Intel i7-6700HQ processor, this beast comes with 16GB of RAM and the NVIDIA Geforce GTX960M card with 2GB of RAM. It is a true gaming laptop with backlit keyboard (Steelseries) and the dual fan cooling system called Cooler Boost 3 which keeps the laptop's temperature low for prolonged gaming sessions. It also offers 1TB of HDD storage, with SSD options available at a higher price. Even though this laptop isn't packed with the latest technology, it's not very far off behind and still delivers great performance for the money!
Clevo Prostar P670RP6

It's another Prostar model that we found as the best option for a great price and let me tell you something: the specs of this laptop are absolutely INSANE and at a much lower price that you'd pay if you went for a brand option. The laptop is powered by the Intel Core i7-6700HQ processor and has 16GB of DDR4, but the cherry on top is the graphics card: it packs the nVidia GTX 1060 graphics card with 6GB GDDR5! That's absolutely amazing! And as if that wasn't enough, we also get a 1TB SSD for super fast storage options. I am absolutely amazed by the specifications of this product, combined with its price – so if you're really looking for a very good laptop that's cheaper than other brand options, don't hesitate to get this one. Go for the performance!
So these would be our recommendations for laptops that can handle Battlefield 1. Have in mind that, as I said in the intro, we looked at more budget options, which means that the cheaper the laptop that you get, the more you will have to give up in terms of in-game performance or graphical quality. But you can still enjoy the game and that's all that matters. However, if you want something really good that will give you an amazing experience, choose our final recommendation or go for a gaming laptop that's over $2,000 – it's your choice, but I don't think you'll find many things much better than the Prostar, so you'll just be wasting extra money. Just my two cents here!