President of Robomodo Josh Tsui, the developer of the upcoming skating game, Tony Hawk's Pro Skater 5 has released a statement, through the PlayStation Blog, detailing how the game's online features work .
The game will feature an area called Freeskate where you can roam around and practice your tricks in between matches and missions. This Freeskate region will support up to 20 players.
"The Freeskate levels serve as lobbies for up to 20 players. They act as hubs where players can hang out and skate between different missions and online matches." the statement reads.
The game's online is built on dedicated servers which makes joining and exiting matches much easier. There will also be a Sessions menu that will allow you to see who of your friends is in the Park, manage your party and arrange multiple missions to your preferred order.
"When you are ready, you can jump into a mission with your party or challenge the entire park in one of the competitive multiplayer modes. This is done from the Sessions menu, a multipurpose tool for queuing up missions or modes, managing your party, and checking to see who's in the park. When your mission or match is finished, you can either retry/rematch or seamlessly jump back into the Freeskate where you can hang out while deciding what to do next."
Robomodo will offer PS4 and PS3 players of the game with PS-exclusive content that consists of three character heads to customize your skater. They will be Ratchet, Sweet Tooth, and Sackboy.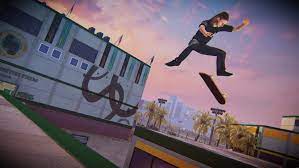 Tony Hawk's Pro Skater 5 will release on September 29 on Xbox One and PS4 while the PS3 and Xbox 360 versions will release later on and without online multiplayer.