Game Of Thrones
It seems like decades since we've heard anything on Telltale's Game Of Thrones series. Luckily our collective luck has changed, as Telltale has graciously released the first teaser for Game of Thrones, and a nice bit of info to boot, so no more rumors and leaked screenshots – this is the real thing!
Sharpen your blades and steady your shields, for this teaser is quite a doozy. Sit back, relax, grab a cup of ale… or Mountain Dew, it doesn't really matter and enjoy the first Game of Thrones video game teaser from Telltale below!
Here is the official press release in its entirety.
Today we can announce that some cast members of the series will reprise their roles in the game. While players will control five members of House Forrester in their story, the series will have them interacting with fan favorite characters throughout the season, including Tyrion Lannister performed by Peter Dinklage, Cersei Lannister performed by Lena Heady, Margaery Tyrell performed by Natalie Dormer, and Ramsay Snow performed by Iwan Rheon. Additional cast members will appear in later episodes.

The game series is based on the world, characters and events seen in HBO's TV show, which in turn is based on George R. R. Martin's books (A Song of Ice and Fire).The events in the game series begin towards the end of Season Three of the series, and end right before the beginning of Season Five. Players will visit familiar locations such as King's Landing and The Wall, as well as unfamiliar locations such as Ironrath, the home of House Forrester.

House Forrester is a noble house from the Wolfswood in the north of Westeros. Bannermen to House Glover, they have always offered unswerving loyalty to the ruling great house of the North – the Starks. The Forresters are seated at Ironrath, an imposing stronghold surrounded by towering ironwood trees. Built over fifteen hundred years ago by Cedric Forrester and his triplet sons, Ironrath is a testament to the strength and endurance of Ironwood. The Forrester house words are 'Iron from Ice', which echoes their belief that – like the ironwood itself – the adverse conditions and unforgiving landscape of the North only makes them stronger.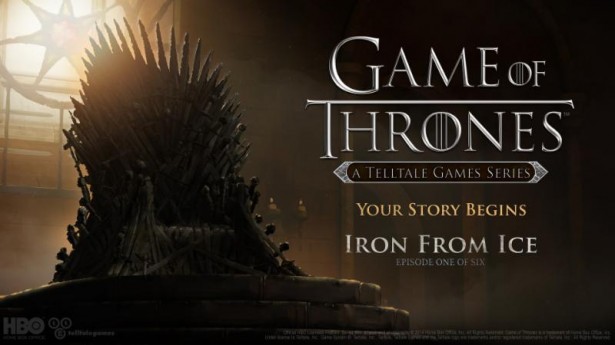 The game will be played from five different points of view. Each is a member of House Forrester; either a direct family member, or a person in service to the House. Scattered across Westeros and Essos, each will play their part in seeking to save House Forrester from destruction.

Playing as five characters not only reflects the epic scope of Game of Thrones, but is also something that the player needs to be mindful of. This is because the actions of one character can ripple out to affect the rest of House Forrester. Multiply the actions of one character by five, and you're truly playing the Game of Thrones… where you win, or you die.

Additional details on the series and its upcoming premiere episode, 'Iron From Ice' are forthcoming. Stay tuned to the Telltale Games Blog, twitter, and Facebook pages for more information as the premiere approaches, the first of six episodes, which will be arriving for download soon on PC/Mac, PlayStation 4, PlayStation 3, Xbox One, Xbox 360, and iOS, with additional platforms to be announced.
Well, that sums it up nicely. Official cast members returning for their beloved voice – except you Ramsay, you're despicable – is quite a nice touch. It's also interesting to see an entirely new perspective on the incredibly well established land of Westeros. Telltale is quite brave for attempting to add their own story to such an interwoven tale.