Splatoon
Nintendo killed it at E3 last year. From Zelda to Yoshi's Woolly World, it seemed that everyone had at least something interesting to look forward to. Out of left field Nintendo announced Splatoon, a third-person shooter for the Wii U. It looked vibrant, colourful, fresh, and full of character.
It was a game that intrigued me despite a few worries I had about the product, and having played it during the global test, I've learned a lot more about what the game has to offer.
The Bad
Playing With Friends? I Think Not
I'd like to get the obvious out of the way and say that I'm puzzled at Nintendo's choice to completely shun any sort of party and friend play. In the 90s Nintendo dominated the multiplayer scene, and yet they seemingly skimp as much as possible when it comes to modern multiplayer.
Why can I not play with my friends in a party? Why can't I hear them speak? Why must I use third-party applications to have fun with your game?
I shouldn't have to ask all of these questions, as all multiplayer games offer at least some sort of party play.
Matchmaking Since 2015
As I just mentioned, most multiplayer games use a tried and true formula that makes the experience smooth and enjoyable, something Splatoon seems to have completely disregarded.
Half of my time with Splatoon was spent looking at menus and error codes. Whenever I'd try to join a public match, I'd be told that the lobby was full and promptly booted to the main screen again for another try.
Instead of reaching for say, ten accessible lobbies to try and place the player in, it seems that the game tries to connect to one random lobby (I hope it's at least based on ping) and if it's full or the connection is bad, you have to start the entire process over.
Why do we have such archaic framework for your prime multiplayer experience? Why can't there be an algorithm that searches for several lobbies at the same time, putting the player into the best and quickest fit with the least amount of trouble? At the very least give us some half-functioning browser like Battlefield has. At least then I'd know if my lobby is full before joining.

Motion Controls Are The Future
The Gamepad is a remarkable controller. It feels comfortable and light while offering several beneficial and innovative features. Why, however, Nintendo feels the need to force motion controls on us at first is beyond me.
To learn the game you have to play the tutorial, yet the tutorial only offers motion control rather than a prompt asking the player what they'd prefer. I felt sick swinging my viewpoint around with the Gamepad, and I don't think it's viable at all in any sort of competitive setting where quick aiming is a must. I'd much rather use thumbsticks, which are thankfully not entirely disregarded.
I would like to say that for what they are, the motion controls function well. It's probably one of the best implementations of motion control for aiming, but it still doesn't jive with me.
Options Menus Are For Punks
 Most games allow the player to pause the action to change up some key settings that anyone might want to customize. Not in Splatoon however, as it seemingly revels in the fact that it disregards basic game functions.
Want to adjust your sensitivity? Do you feel that the volume is too high or the brightness too low?
None of these settings are accessible through the pause menu, rather, you must exit to the main screen just to change these settings; an extremely inconvenient and annoying prospect.
Something like camera sensitivity or inversion is essential to a player's ability to play the game. Something like this might only need a slight tweak to get that perfect feel, so having to go in and out of games just to adjust your sensitivity is beyond ridiculous to me.
I had to put up with several bad matches just so that I could test out the sensitivity until I found something that I felt fit my style of play. Furthermore, if you consider the bad matchmaking system in place, it makes doing this time-consuming and utterly frustrating.
Class Changing Ain't Easy
 This is yet another misstep that turns out to be agonizing for no good reason. If you want to change your class in Splatoon, you can't just do it upon death like almost every other class-based multiplayer game. Rather, you have to again drop to the main menu and start the matchmaking process over again.
I've now mentioned twice how bad the matchmaking is handled, so you can see the problem with all of these drop-outs.
It's OP!
It seems that the paint-roller class has some balancing issues. While other classes slowly take away the opponent's health or have a large charge time for long-distance shots, the paint-roller nearly instant kills anyone it comes in contact with. You essentially just roll the paint on the ground and charge enemies like a bull, racking up kills left, right and centre.
The downside to this class is that you can't engage anyone that isn't directly on even ground with you, but it hail's in comparison when you consider how easy it is to downright slaughter other players.
 I admit that it is probably too early to start yelling OP, but the paint-roller seems to be the obvious choice for not only kills, but how quickly you can paint the map in your favour. (a key factor of who wins and who loses).
One Map, Or Two?
I am having a lot of trouble remembering whether I played one map or two maps. I am leaning towards two but they were both so grey, white and samey that I couldn't really distinguish what map was which.
It is probably too early to make this point a bad point, as I am sure Nintendo made the rest of their maps varied, but the two maps we got to test felt so similar that I am still wondering as I write this, how many I had access to.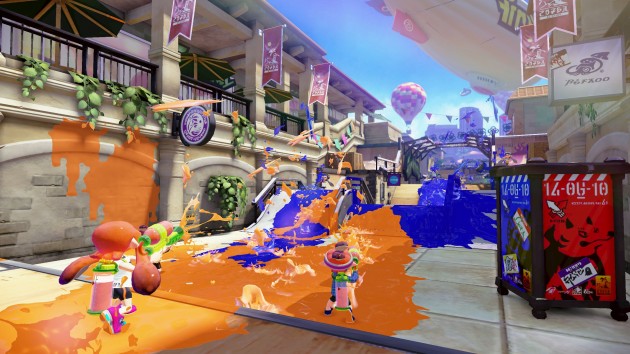 The Good
Give Us Smooth, Give Us Silky
It is no secret that Nintendo loves colour. Every game they create has beautiful, vibrant visuals that age incredibly well. Splatoon, while not as colourful as something like Yoshi's Woolly World, is still a vibrant and colourful experience.
The maps start out pretty basic, but as your team and the enemy start slinging paint all over the level, it becomes increasingly messy and colourful until you're fighting in what appears to be a neon rave.
It's really pleasing to the eyes and the OCD to have the ability to literally add colour to the game, especially in a competitive multiplayer setting.
Mini-game Inbound
I previously mentioned how awful the matchmaking and connection issues are, but what I left out was the one saving grace to all of this nonsense: a loading-screen mini-game.
I am a sucker for mini-games and this doesn't disappoint. Whenever the game is doing any sort of matchmaking, you are left to play a jump-centric platformer game on the Gamepad's screen.
It certainly doesn't fix the issues I've presented, but it makes it much more enjoyable to suffer through!
 Lag Is A Thing Of The Past
With any multiplayer experience, it's probably too early to tell how the game will function after launch, but if we can take anything away from this experience, it's that we won't be suffering from a lot of lag.
Splatoon runs like a dream when it runs, and that is saying something. I encountered no lag or framerate issues, nor any sort of choppiness with the other players in the lobby. It was nice to see no rubber-banding, no warping, no lag spikes. All of it felt great and smooth, and I'm grateful for this after spending months with Battlefield 4, or, as I like to call it, 'a test of patience'.
Prepare For Battle
 Splatoon doesn't have much downtime when you are actually in a match. It's actually surprising how frenetic and consistently engaging the action is. You hardly spend time wandering around, as the maps feature many tight corridors and many flanks for sneaky engagement. Couple this with your ability to spawn anywhere you please (as long as you land on your paint), and you won't be searching for things to shoot very often.
The addition of your squid form makes it all the better as well. When you're a squid, you can quickly swim through your ink and hit big jumps for mad air that give you the boost you need to enter the fray as soon as possible.
It makes for fast-paced gameplay and it makes you feel more active in your pursuit of victory.
The Gameplay Is Where It Counts
I think that one of the best aspects of Splatoon thus far is just how well executed the gameplay is. When we get past the pretty colours and the fluidity of movement and map design, we're left with what is essentially a tight shooting experience.
The classes are varied and they possess unique abilities such as a bubble shield or a paint radar that obliterates everything in it's proximity, The weapons all have their unique feel and functions that vary in importance depending on the encounter, The controls feel responsive and fluent; you don't have to spend much time fighting with them.
When you partner all of these things with nuanced maps that compliment the gameplay exceptionally well, you're in for a great time with a game that knows what it is trying to do.


I'll Be Damned If It Doesn't Feel Good
When all's said and done, Splatoon is a game that feels great to play. The controls are tight, the action is consistent, the classes are varied, the mechanics are unique and engaging, and the art and sound design is top-notch. Nintendo nailed the gameplay, despite the fact that they almost completely disregarded some of the important UI and matchmaking tricks that modern shooters utilize.
It was a very flawed experience, and despite that, I am still anxiously waiting to play more.
Comments
comments