On July 11th, 2015, Satoru Iwata, the president and CEO of Nintendo, passed away due to a bile duct growth.  His passing is a great loss not only for Nintendo, but for the gaming industry at large.  Iwata was a rare breed in this industry where most executives are placed based on their general business prowess rather than their knowledge of game development itself.  Iwata was, first and foremost, a game developer and a gamer who just so happened to also be a clever business man.
Iwata's work in game development began with an unpaid internship for Commodore Japan and doing freelance work for HAL Laboratories.  After graduating from the Tokyo Institute of Technology, he began working full-time at HAL to develop games for Nintendo systems.  Along with working internally at HAL on games like Vegas Stakes and the Kirby series, he also worked with several of Nintendo's research and development departments as a programmer for games like NES Open Tournament Golf and Balloon Fight.  It was all a controversial move for him personally as his family didn't approve of video games as a career path.  In an interview with Game Center CX, Iwata discussed how his father refused to speak to him for half a year because of his decision to work at HAL.  However, Iwata would prove himself in time to be both a talented programmer and a vigilant leader.
Iwata helped found Creatures Inc., the studio most famous for their cult-classic RPG Earthbound, and acted as both the programming director and co-producer for their landmark title.  Iwata also shared his skills with the people at Game Freak for some of the Pokemon games.  For Pokemon Stadium, he was responsible for recreating the battle code simply by studying the source code of the original Gameboy games in roughly a week.  With Pokemon Gold and Silver, he developed the compression tools that made it possible to include the entire world map from Pokemon Red and Blue as an end-game bonus for these new installments.  Iwata knew game development inside and out, and that experience served him well once he became the president of Nintendo.
On May 31st, 2002, Iwata took up the role as Nintendo's president following the retirement of Hiroshi Yamauchi.  Iwata was the company's fourth president and the first not to be related to the company's founding Yamauchi family.  Nintendo was at a low point when Iwata took the reigns, currently in the midst of a lukewarm reception to the Gamecube following the similarly poor sales of the Nintendo 64.  However, Iwata had already brought HAL back from the brink of bankruptcy once before and he was determined to put Nintendo back on top.  His method was to venture into bold new directions for consoles and handhelds alike.  First came the DS, which broke new grounds with two separate screens and opened the door for innovative games that would have been impossible otherwise.  Reception was cold at first, but sales quickly escalated and it has since become the second highest-selling video game system to date with over 154 million units sold worldwide.  The success of the next system, the Wii, was much more immediate.  While its weaker processing power turned off many core fans, the introduction of motion controls drew the attention of millions of new casual gamers.  The Wii easily outsold the competition with over 101 million units, while the Xbox 360 and Playstation 4 each sold 80+ million units.
Unfortunately, lightning didn't strike twice as the Wii U has continuously struggled to excite hardcore and casual gamers alike.  Despite being the first of the current generation of home consoles to hit market, it is currently locked in third place.  When the time came to make cutbacks, Nintendo's executives opted to cut their own pay rather than cut entire jobs at the lower levels.  Iwata took the hardest hit of them all by cutting his own salary in half.  That kind of dignity and selflessness is such a rare thing to see in the business world.  He strived to keep Nintendo at full strength in its darkest time, even at great personal cost.  For him, game development was never a matter of profit alone; he saw games as a way to create joy.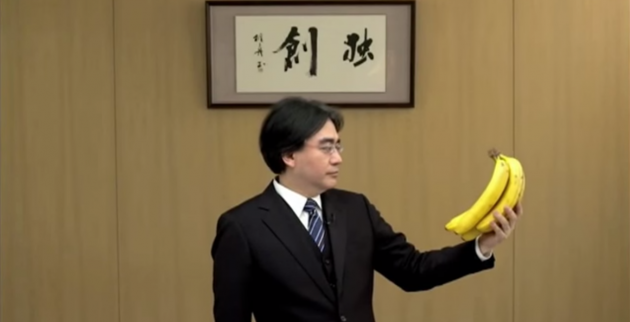 In his public appearances, Iwata always maintained a welcoming demeanor that would only grow more playful with time.  He ran a series of developer interviews called Iwata Asks that brought attention to the ins and outs of various games and systems.  When Nintendo introduced their series of Nintendo Direct video presentations, he would regularly take center stage and give his own charming spin on the announcements.  Perhaps his most infamous joke came in the Nintendo Direct held in preparation for E3 2012 where he intently stared at a bunch of bananas without any context.  There was no setup, no punchline, and not even a Donkey Kong announcement to tie in with the gag, but the awkwardness of it all and the seriousness it was presented with gave it a surprising amount of appeal.  Not only did the joke spread across the internet, it became a running gag within Nintendo Directs themselves.  Iwata's jokes would rarely be that simple again as E3 2014 brought the reveal of the Mii Fighters for Super Smash Bros in the form of an over-the-top fight scene between Iwata and Nintendo of America COO Reggie Fils-Aimé.  Most recently, at E3 2015, Iwata and his colleagues had themselves represented as Muppets that transformed into the cast of Starfox with Iwata himself taking the form of the wise yet jovial Peppy Hare.  It's a surprisingly fitting send-off for a man like Satoru Iwata; someone filled with experience and knowledge, someone who makes for a noble and capable leader, but, at his core, is really all about bringing happiness to people.
"My first creation was a baseball game.  I don't think anyone can say it had bad graphics because it had no graphics.  Gameplay was represented only by numbers.  But when I saw my friend playing that game and having fun, it made me feel proud.  To me, this was a source of energy and passion, and that passion for games began to blossom.  I think my life course was set."
-Satoru Iwata, GDC Keynote 2005
Comments
comments