When dealing with Nintendo consoles there's a particular part of online play which can be annoying. Friend codes. Every user is given a unique friend code and to add other players you need to manually all 12 digits one-by-one. But why doesn't Nintendo just use a traditional friends list instead?
Thanks to a new leak we now know exactly why. A post on ResetEra details leaked information related to both the Wii's design files and source code. As the first console to feature friend codes, Nintendo has a section specifically discussing those ever annoying 12-digit codes.
The reasoning behind Friend Codes
It turns out Nintendo's largest motive was to avoid duplicate screen names. The design of all Nintendo consoles is streamlined to the point of impressive simplicity. Nintendo didn't want its users getting lost as to how to do something. This includes error messages regarding duplicate names which would be unnecessarily confusing for less experienced players.
Equally, Nintendo didn't want people to add other people by guessing their username. A degree of privacy and choice is important to Nintendo so it implemented a system where the player could always choose who to play with. After all, the likelihood of ever guessing someone's friend code is very low.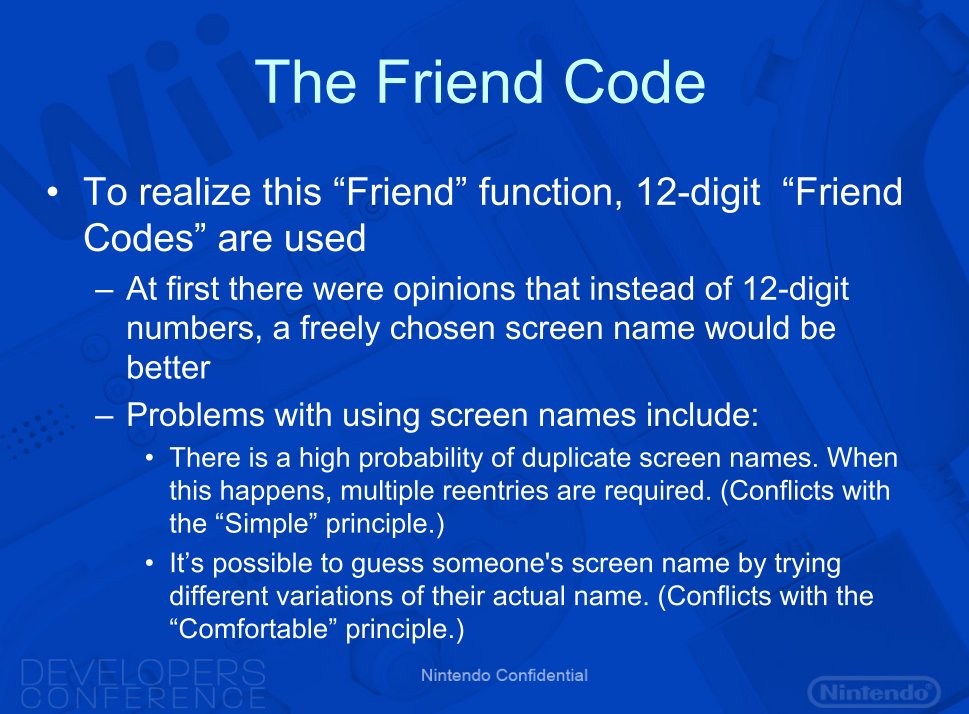 Whilst some of these decisions feel a little unnecessary, it is worth noting they were made a long time ago. The Nintendo Wii didn't debut until 2006 so it's fair to say these design plan notes appeared at least a year or two before that.
Even so, the 2017 Nintendo Switch as well as their 2011 3DS both continue to use the age old friend code system. It's difficult to know if the reason why is still the same or if it just became the standard for Nintendo. Either way, it looks like friend codes are here to stay.