With the recent release of Uncharted: The Nathan Drake Collection and the approaching fourth entry, what better time then to bring together the finest moments from Naughty Dogs biggest franchise. From 2007 to 2011 we were treated to some outrageously outstanding set pieces that puts the series in a league of its own. Following in the foot steps of Marco Polo, Lawrence of Arabia and Sir Francis Drake, Nathan's adventures are both extraordinary and surreal.
After all this is done and dusted though, what are the main points that really stick with you. The parts that you love to revisit time after time. Here I try to diagnose the five strongest moments that define the Uncharted series. Warning spoilers for the entirety of the series:
Train-Wrecked (Uncharted 2: Among Thieves)
If you know the series you will have seen this one coming. So fun you experience it twice. Debatably one of the greatest video game opening levels see's Drake covered in his own blood hanging for dear life to a wrecked train off the side of a mountain. You ponder how have things got this bad? What has he done to get into this situation? The next essential hours are spent building up to this astronomical cliff-hanger.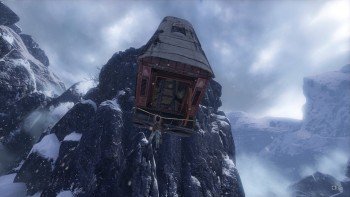 Second-Story Work (Uncharted 3: Drake's Deception)
Who would have thought playing as Drake when he was a mere teenager could be so much fun? Fleeing on foot from a number of mysterious agents, Drake's escapades see him leaping over rooftops. In great movie style the chase is fast and unforgiving. You need a perfect run to make sure your not caught. Jumping from building to building before a detour through a residents flat in the shadow of Mexican Vihuela strings compliment the level perfectly. All leading up to the final stance of Drake having to make a choice whether or not he actually shoots one of Marlowe's agents. Thankfully its a choice he never has to make with a timely save from Sully

.
The Yeti Shadow (Uncharted 2: Among Thieves)
Somewhere in Nepal you scour icy cliffs following a villager for some unknown reason to yourself. The snowy perches are a stunning sight to behold as they shimmer in the light. From nowhere the camera zooms outs ever so calmly. The shadows suddenly start to move thus revealing pale white eyes and snarling teeth. The dark figure disappears leaving me in disarray. What the hell was that? Every next step, you take lightly.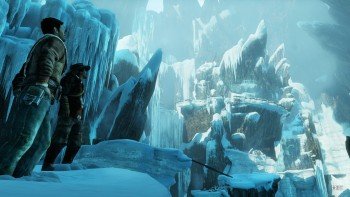 Supernatural Twist (Uncharted: Drake's Fortune)
The original supernatural twist is a moment I will never forget. After spending hours upon hours searching for El Dorado you discover that that the treasure is cursed. Transforming humans into mutated beings with super speed and strength, you realise for the first time that Drake might be out of his depths. Fighting alongside rival Eddy you begin an all out onslaught on the dozens of enemies coming your way. Tension mounts as Elena scrambles to find some way of helping you escape. Shooting the last of the beasts Eddy smugly taunts their dead corpses off the side of a ledge before suddenly being grabbed and pulled to his death. Now your all on your own to defend. Overlooked too much for my liking, Drakes Fortune has tremendous moments like this that are unappreciated too often.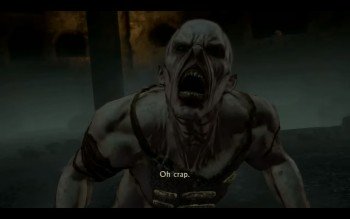 Plane Crash (Uncharted 3: Drake's Deception)
Like the train-wreck its impossible to leave this sequence out. Serving as the antepenultimate After becoming a stowaway you are suddenly caught by enemies which results with a fist fight on the open ramp of the plane. Very similar to the final showdown in Air Force One except here Nate ends up hanging onto loose cargo off the edge. Gun fight ensues whilst you scramble back up to safety. Things then go from bad to worse as an engine fire rapidly destroys the airplane before sucking everyone (including Drake) out into the air. Falling out of the sky you somehow manage to grab hold of a crate before pulling the safety cord to release the parachute. As improbable as it is, the level is still incredible.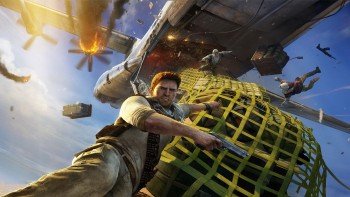 So there you have five unbelievable Uncharted moments that have made the series a phenomenon. Uncharted 4: A Thief's End is fast approaching with expectations high lets hope they will bring us some more surreal moments. What moments stand out for you? Leave us a comment below to tell us why.
Comments
comments