Ubisoft's Assassin's Creed series lost considerable credibility last year after the release of Assassin's Creed Unity. The game suffered major instability issues in regards to frame rate, general gameplay and even the multiplayer. All of which remained untamed for a lengthy and almost cringe-worthy amount of time after Unity's initial release. This consequently caused major aggravation among players, also rendering a lot of the games newer features as pretty much useless. As a result of this, the game was widely criticized for being seemingly rushed and it appeared that Ubisoft got knocked down a few pegs as it's annual Assassin's Creed release failed to maintain the standards of it's predecessors. However, upon the release of highly anticipated Assassin's Creed Syndicate, it is apparent that Ubisoft have rediscovered their Assassin's Creed finesse.
For those yet to sink their hidden blades into the new installment, Assassin's Creed Syndicate is set in a typical Assassin's Creed rendition of Victorian London in which the Assassin/ Templar battle still rages on. The player may take on the role of interchangeable protagonist twins Jacob and Evie Frye (Assassins) in order to prevent the Templars ultimately dominating London.
Assassin's Creed Syndicate has redeemed Ubisoft after the last Assassins's Creed installment. That said, let's delve into it's brilliance and what exactly makes it such a pleasure to play.
Two Protagonists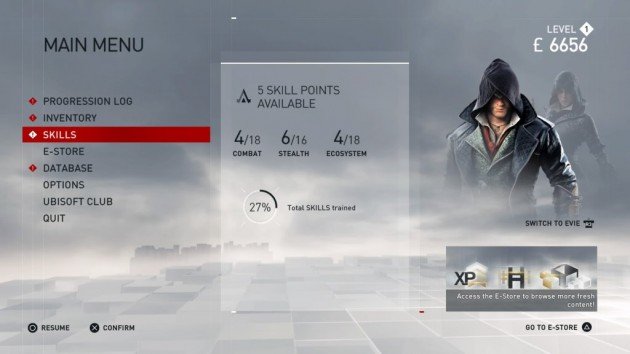 The option to play as two differing protagonists is a concept alien to the Assassin's Creed installments to date. Jacob Frye is the more confrontational, combat orientated option of the two characters. He is hot-headed and always keen for action. Evie Frye is the stealthier and more typically Assassin-y of the two characters, working more with pedantic logic and by assessing situations thoroughly. The player may change between either character as and when they please to suit specific missions and situations. By completing missions/ objectives the player collects skill points which can be applied to the Jacob's and Evie's combined skill tree. This is a convenient and all round great feature as opposed to having the separate skill trees as it negates confusion and allows the player to simply get on with the game. There are a few separate skills that only apply to either Jacob or Evie alone however, they are found in the same interface as to not become hard to comprehend.
Jacob is an awesome character. He brings cheeky humour to the game with his very cocky personality. His play-style exploits the new combat style also which is great. Below I have provided some gameplay with Jacob:
https://www.youtube.com/watch?v=XYc-l8PsrmQ
Evie is equally a lovely new addition to the list of Assassin's Creed protagonists. Not only is it great that she is a female but it is great watching as she logically flaws all of her brother's reckless endeavors during the game. She may be a kill-joy but she is a funny one. Her play-style gives the player opportunities to appreciate the more ranged and stealthy ways of tackling situations. Below I have provided some gameplay with Evie:
https://www.youtube.com/watch?v=9N4pMgVLwRc
Combined, the twins provide great, banterous humour that anyone with or without a sibling is able to appreciate. They exhibit the cheekiness that brings a more light-hearted side to things within a game orientated around war and control.
A More Modern Setting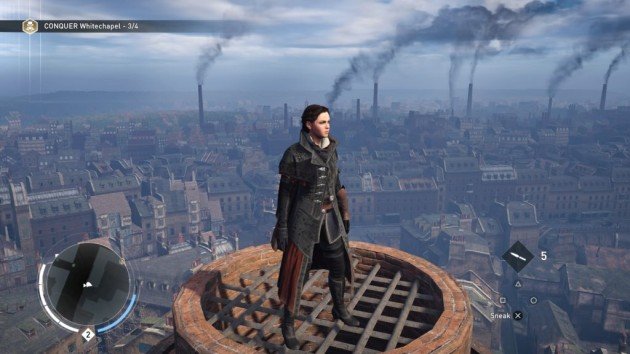 A Victorian London setting for an Assassin's Creed game is one that has been fan-demanded for a long time and to finally be able to play such a well developed setting is sensational to say the least. The setting is dull in regards to it's city setting however, it is made exciting with it's content. Buildings heaving with cheap labour, manufacturing all sorts under Templar observation, accurately portraying England's renowned manufacturing glory days. Commoners bark insults at you as you push past them and children charge through the streets without a care in the world. Furthermore, women make more of a significant appearance within Assassin's Creed Syndicate, most noticeably as enemies. It is a great way to make the game come across as increasingly realistic. Ubisoft has definitely done well to incorporate the necessities within the Assassin's Creed series within this setting. Haystacks for leaps of faith, hiding spots, viewpoints and shops are all tied in exceptionally well into the more modern setting without depriving Assassin's Creed Syndicate of it's practicality or plausibility.
The Assassin's Creed series is associated with more dated settings and time periods and it is great to see that Ubisoft can pull of something more up to date and still make it work with the typical Assassin's Creed game mechanics. The Victorian London setting has allowed Ubisoft to tease us with some intriguing upcoming DLC which I am sure will keep this title interesting for some time.
Gameplay and Combat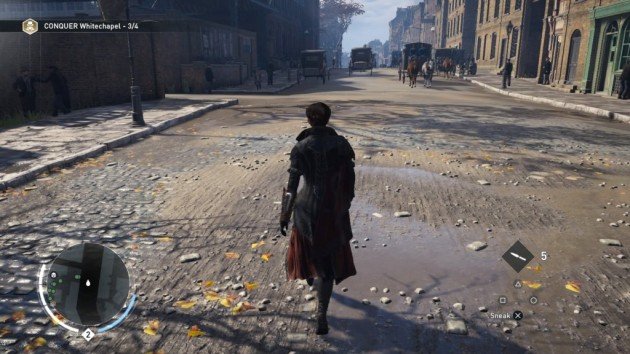 Much like the less successful Assassin's Creed Unity, Syndicate maintains the downwards free-running style which admittedly is much smoother and easier to appreciate in this considerably more stable game. Combat on the other hand has changed. As oppossed to Unity's 'fencing-style' combat, Syndicate features a much more fast paced and brutal style of combat, including combos. Although different to any Assassin's Creed fighting-style to date, it is easy to come to grips with and ultimately a lot better. It works much faster, narrowing down time spent fighting hordes of enemies waiting to counter each one which makes it more hands-on, exciting and ultimately less time consuming. Assassin's Creed Syndicate also features the use of Horse and Carriages in which the players can hijack, hide in and race. This is a nifty and fun addition to the series.
A Major Improvement
Despite Assassin's Creed Unity being an easy act to follow, Assassin's Creed Syndicate excels in not only being an improvement but also reigniting the Assassin's Creed fire. The game was pretty much fully operational upon it's release date unlike Assassin's Creed Unity and in being so, players have been able to downright appreciate all of Syndicate's awesomeness.
If you are one of the many hesitant about buying this installment after the release of Unity, that is understandable however, I'd honestly recommend giving this title a go.
Comments
comments