The opera house has plenty of unique new challenges for the One Night in Karazhan adventure with its grand finale being a battle with the Wizard of Oz homage, The Crone.  Much like the fight with Emperor Thaurissan in Blackrock Mountain, The Crone's hero power can kill you in one shot and the only thing stopping it is the survival of a specific minion.  In this case, it's Dorothee who will stand on your side of the board and offer buffs to your minions.  All minions to the left of Dorothee will gain charge and all to her right will gain taunt.  These effects will immediately make almost any deck incredibly powerful and this will be one of the easier bosses on normal difficulty.
One quick route to victory is to simply build a deck of all your best taunt minions, place them all to the left of Dorothee, and just go for the face.  Only trade when it's absolutely necessary to protect Dorothee and be sure to have a range of minions rather than simply going for a zoo deck as that can leave you vulnerable to the Abominations that The Crone has.  Keep in mind that The Crone has plenty of buffs like Blessing of Kings and Power of the Wild, so be prepared for those types of bursts.  Also, remember to change your deck for the encounter to Wild as all cards are legal against the bosses.
On heroic difficulty, things get a lot trickier as The Crone not only has 50 health, but is also putting you on an eight-turn timer.  On turn eight, The Crone is guaranteed to draw Twisting Nether and will use it for a  guaranteed kill on Dorothee and, by extension, you.  I played several matches to test it and she topdecked the card every time without fail.  It's possible to buy yourself an extra turn with Loatheb or Counterspell, but the fact remains that you need to be able to bring The Crone down fast.
One of your best bets for bringing down the wicked witch is to build a Warlock deck with a focus on strong stat lines for low costs.  Cards like Duskboar and Ancient Watcher are generally what you're going to want to focus on.  What makes Warlock particularly potent is that it has minions like Flame Imp, Wrathguard, and Pit Lord that trade your health for powerful stats.  Since the crone is going to focus exclusively on attacking Dorothee, so your own health is irrelevant.  Warlock also has plenty of sticky minions like Imp Master and Possessed Villager that provides plenty of protection.
Another potent tactic is to play Priest and cast Inner Fire on Dorothee.  You'll still need plenty of minions with strong stats to keep her safe, such as the neutral ones mentioned earlier.  You'll also want card draw as your strategy will be built entirely around this one spell and you'll struggle without it.  However, you do have unlimited attempts at the boss, so just keep trying until you get lucky.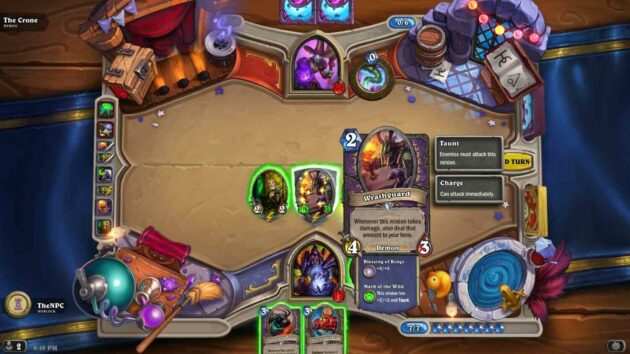 There are all the tactics you'll need to turn The Crone into a green puddle.  Maybe you'll catch her in a charitable mood and she'll spend her buffs on your minions.  Seriously, the above image is just one of three separate occasions where she just gave me the match for no real reason.  Hearthstone A.I. is just the best.